Jorge Davila receives Leadership Excellence Award from National Association of Latino Fraternal Organizations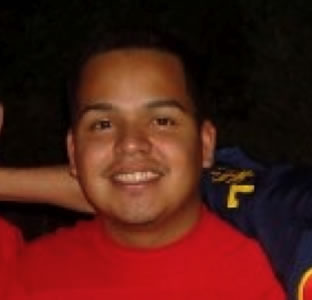 Share this Story
(April 26, 2010)--Jorge Davila, a member of the UTSA Phi Iota Alpha fraternity Alpha Eta Chapter and president of the UTSA Multicultural Greek Council (MGC), won the prestigious Campus Leadership Excellence Award from the National Association of Latino Fraternal Organizations (NALFO).
Presented April 17 at the NALFO Awards Gala in Arlington, Va., the award recognizes an undergraduate who has demonstrated commitment to his or her organization, university and the Latino fraternity and sorority community through leadership positions on campus and within the Latino-Latina fraternity and sorority community.
The award was accepted on behalf of Davila by Francisco Lugo, UTSA assistant director of student activities for student programming and director of undergraduate affairs for Davila's fraternity.
In the nomination, Francisco said "Jorge encourages his chapter to collaborate with other organizations, Greek and non-Greek. These collaborative efforts have been very successful for the chapter, the council, the Greek community and ultimately for the campus. Jorge has implemented many ideas that have created a positive impact on the recruitment, publicity and communication for all the Latino and Latina fraternities and sororities at UTSA. He also has helped to elevate the positive visibility of the Greek organizations under MGC."
In support of the nomination, Keri Shiplet, UTSA assistant director of student activities for Greek life, described Davila as "talented, mature and dependable," a person who "demonstrates high levels of communication, initiative and diligence" and has "a strong sense of ethics, stands up for what he believes to be right and consistently produces high-quality work."
Zwisel Gandia, staff adviser to the Alpha Eta Chapter of Phi Iota Alpha fraternity and Laurel Village coordinator, said Davila is a "passionate and strong individual who has proven to be an outstanding leader not only within the fraternity, but within the MGC and the Greek community as a whole" and is "a person who is willing to do anything and everything in his power to achieve success, both as an individual and as a member of the fraternity. As the treasurer for the fraternity, Jorge has gone beyond what is expected of him to ensure the utmost financial success."
Davila recently was named UTSA Greek Man of the Year. He has served Phi Iota Alpha fraternity since fall 2008 as assistant recruitment chair, treasurer and fundraising chair. Additionally, he was MGC vice president internal assistant and vice president internal, and currently is president. In addition to his leadership with the organizations, he was a member of the UTSA Inclusion and Community Engagement Center advisory board.
A UTSA junior, Davila is the first person in his family to attend college. He is majoring in kinesiology and plans to earn a master's degree in nursing or physical therapy.