UTSA music professor Gary Mabry conducts at Carnegie Hall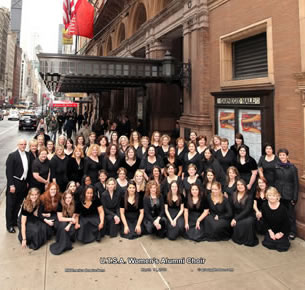 Share this Story
(April 21, 2010)--While many use Spring Break as a chance to unwind and recharge, such was not the case for Gary Mabry, UTSA associate professor of music. Mabry used this year's down-time to live out a lifetime dream. He was a guest conductor at Carnegie Hall in New York City.
Mabry led a group of 60 performers, which included current members of the UTSA's Women's Choir and members of the UTSA Women's Alumnae Choir.
The journey began in October 2008 when Mabry was contacted by Mid-America Productions, the booking agency for most of the performances at Carnegie Hall. Mid-America knew of his history, both as a choral director and vocalist in other singing groups, but this was the first time they had offered him the opportunity to serve as a guest conductor.
With such a massive undertaking involving UTSA alumnae located all over the United States, Mabry used Facebook to keep everyone informed. "I started a Facebook group called 'Let's Sing at Carnegie Hall,' and used it as a vehicle to send and receive information," he said.
The UTSA group led by Mabry, performed a 25-minute prelude concert, then joined a larger group of 250 singers to perform Beethoven's "Mass in C" led by British composer-conductor John Rutter.
"The group delivered a fabulous concert and everyone felt so good because they worked so hard all these months," said Mabry. "The trip also generated goodwill between our alumni and current students and allowed both the opportunity to sing with one another."
For Mabry, it ranks at the top of his musical achievements.
"When we turned the corner, and saw the huge three feet by six feet posters at the entrance of Carnegie Hall with the names 'UTSA Women's Alumnae Choir -- Gary Mabry, conductor,' I froze for a moment."
The UTSA Women's Alumnae Choir has a 20-year reunion scheduled for fall 2011 and, according to Mabry, the Carnegie Hall performance is sure to be discussed as one of the most memorable musical events of the past two decades.
UTSA choral group participants included Carly Marshall, Charity Lewis, Amanda Cullom, Valerie Serna, Alexa Finley, Ashley Simpson, Reesa Manroe, Christina Ramirez, Elizabeth Swiggett, Ariana Reyna, Ashley Kiddy (who also played percussion on the program), Nikki Bourg, Beth Holler, Erin Holzum (who also played violin on the program) and Amanda Hufford. UTSA piano faculty member Christine Debus was the accompanist.