UTSA student Rafael Moras to appear in HBO's 'Masterclass' April 18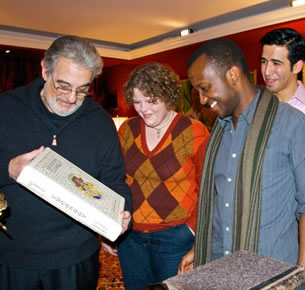 Share this Story
By Kris Rodriguez
Public Affairs Specialist
(April 14, 2010)--UTSA vocal performance major Rafael Moras will appear in the new HBO series "Masterclass" at 5:30 p.m., Sunday, April 18.
The nine-part, 30-minute episodes present nine world-class creative artists sharing their arts and life experiences with young people representing the best of a new generation of talent in America. Each episode of the series highlights the importance of mentorship, allowing emerging young artists to meet and work with legends in the fields where they aspire to become legends themselves.
The students in the series are part of YoungArts, the core program of the National Foundation for Advancement in the Arts. Founded in 1981, the nonprofit organization is dedicated to identifying, nurturing and supporting emerging young artists as they pursue their dreams and raising appreciation for and support of the arts in American society.
"Masterclass" is produced and directed by Karen Goodman and Kirk Simon, an award-winning documentary filmmaking team whose work has garnered four Oscar nominations, many Emmys and the duPont-Columbia Award for Independent Programming.
"Being a part of this project was like a dream come true," said Moras. "Maestro Domingo was everything I thought he would be and more. He is even more of a hero to me now as an artist who, in light of such innumerable successes and legendary status, maintains a gracious, generous, enthusiastic, passionate and sincere demeanor. He inspired me to strive to not only be the best performer I can be, but a better person as well, regardless of where such a life may take me."
Over the last four years, Moras has starred in numerous productions as a part of the UTSA Lyric Theatre and Opera group. Last month, at age 22, he was the only undergraduate and the youngest of 27 semifinalists to participate in a national competition to perform at the New York Metropolitan Opera.
This summer, Moras plans to attend the prestigious Wolf Trap Summer Opera program. The program has gained worldwide recognition for its summer residency program for young opera singers. The highly selective program provides invaluable experience for young singers at the start of their professional careers, while producing some of the finest and most critically acclaimed operatic performances in the country.