UTSA institute to host delegation from El Salvador Ministry of the Economy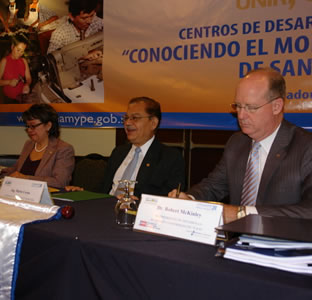 Share this Story
(April 13, 2010)--The UTSA Institute for Economic Development (IED) will host a delegation from the El Salvador Ministry of the Economy on April 19-20. The delegation will include Vice Minister Mario Antonio Cerna and Ileana Rogel, executive director of the Salvadoran small business assistance program CONAMYPE, along with 20 representatives of business, community and academic institutions.
The goal of the visiting delegation will be a first-hand understanding of how the Small Business Development Center (SBDC) program, as exemplified by the UTSA Institute for Economic Development, assists small businesses via counseling and training services.
"We selected the SBDC model because it is results-oriented and really reaches all segments of small business," said Cerna.
The Salvaldoran delegation's agenda includes tours of UTSA's international trade, government contracting and rural business specialty centers. In the United States, a network of more than 1,000 SBDCs help entrepreneurs start, grow and remain competitive in the global economy.
"The El Salvador micro and small business assistance organizations will be able to develop the export assistance capacity that will enable thousands of micro and small businesses to access international trade opportunities," said Al Salgado, director of the South-West Texas Border Small Business Development Center Network, which spans a 79-county region of Texas.
Following its UTSA visit, the delegation will travel to Washington, D.C., to meet with representatives from the Small Business Administration, the House and Senate Small Business Committees, the U.S. Agency for International Development (USAID) and the Organization of American States.
The Institute for Economic Development is leading an expansion of the Small Business Development Center model into Latin America; the institute already has helped establish more than 80 SBDCs in Mexico and Columbia.
In February, Robert McKinley, UTSA associate vice president for economic development, led a delegation of staff to El Salvador to meet with stakeholders interested in evaluating the SBDC model for El Salvador.
"Surveys done by USAID after the February meetings revealed that 99 percent of attendees thought the SBDC model would work in their country," McKinley said.
El Salvador's Ministry of Economy and CONAMYPE are committed to starting an SBDC network in El Salvador to help its small-business sector create jobs, increase competitiveness and to link with U.S. small businesses for international trade opportunities via a new online trade platform called SBDCGlobal.com.
The UTSA Institute for Economic Development provides professional business consultation, technical training, research, and strategic planning services to help establish and grow small businesses. The institute comprises 10 programs that serve the Texas-Mexico border area as well as regional, national and international outreach efforts. Together with federal, state and local governments, and private businesses, the institute fosters economic and community development in support of UTSA's community engagement mission.
------------------------------
For more information, contact Lynn Gosnell at 210-458-2978.