UTSA prepares Zoya Farzampour '10 for Stanford graduate program in neuroscience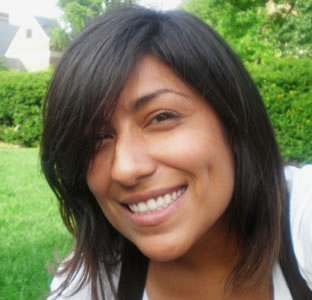 Share this Story
(May 26, 2010)--Zoya Farzampour '10 is not your typical college graduate. In her junior year of high school, she lived with her father. In her senior year, her father left her to take care of his own dying father. As a high school graduate, she began living day-to-day.
"I wanted to do something besides just survive," said Farzampour. "I wanted it to be positive. I had always enjoyed school, especially my math and science classes. I knew education was my ticket out of the life I was living, so I called the closest community college and asked them how to attend."
That was Northwest Vista College in San Antonio. And, before long, she was enrolled in pre-med classes and receiving financial aid.
As a college student, Farzampour was eager to experience life as a doctor. To get a better sense of the profession, she volunteered at a local hospital, and the experience was eye opening.
"I felt very helpless at times," she said. "I learned that the treatments are often as bad as the ailments themselves. Sometimes a pill does as much damage as the ailment, then the patient has to take another pill."
That stint as a hospital volunteer made Farzampour re-think a career in clinical medicine. She turned her focus to biomedical research but was hesitant to join a laboratory, fearing it would be an isolating experience for an outgoing person like herself.
Fortunately, she met Gail Taylor, assistant director of the UTSA RISE (Research Initiative for Scientific Enhancement) and MARC-U*STAR (Minority Access to Research Careers - Undergraduate Student Training for Academic Research) programs.
The RISE program supports research by faculty members, strengthening the institutions' biomedical research capabilities and providing opportunities for students to work as part of a research team. The MARC-U*STAR program, which Farzampour joined, offers training, financial support and networking opportunities to undergraduates who want to continue their studies in competitive graduate programs in the biomedical sciences.
Through Taylor, Farzampour met David Jaffe, UTSA professor of neurobiology, who offered her a spot in his laboratory. Jaffe's laboratory studies how changes in the brain's hippocampus affect learning and memory, a challenge that intrigued Farzampour.
"The more I got into it, the more I loved it in the lab," she said. "I loved the creative process -- the cutting-edge science. I also met a lot of really good people -- smart and ethical people who enjoy what they do and have a passion for it."
In her senior year, Farzampour was accepted into some of the nation's most competitive graduate programs in neuroscience including Berkeley, Yale, Wisconsin at Madison, UT Austin and USC.
This month, as she graduated with her UTSA bachelor's degree in biology with honors, she was comforted by the simple fact that, through education, she changed the course of her life. And, now that the party is over, she is packed and headed for a graduate program in neuroscience at Stanford.