UTSA unveils four-game football series with Colorado State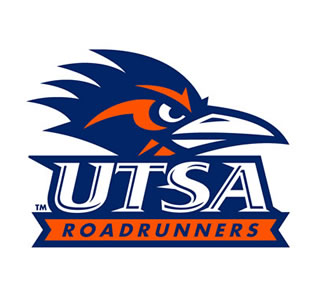 Share this Story
(May 25, 2010)--UTSA officials announced today a four-game series with Colorado State to be played in 2015-2018 and that the program is moving its 2012 home game against Southern Utah from Sept. 15 to Oct. 20.
The Roadrunners will host the Rams on Oct. 3, 2015, and Sept. 29, 2018, at the Alamodome and travel to Fort Collins, Colo., for games on Oct. 1, 2016, and Sept. 30, 2017. This marks the sixth contract to be signed with an NCAA Division I Football Bowl Subdivision (FBS) opponent.
UTSA announced earlier this month it will play Houston on Sept. 21, 2013, at the Alamodome and again Aug. 30, 2014, at Robertson Stadium in the Bayou City. That announcement came one day after unveiling a three-game series with Kansas State, which will take place Sept. 27, 2014, and Sept. 15, 2018, in Manhattan, Kan., and Sept. 12, 2015, at the Alamodome.
The Roadrunners announced in April a pair of contracts with schools from the Desert Southwest. UTSA will face Arizona on Sept. 14, 2013, in Tucson, Ariz., on Sept. 6, 2014, at the Alamodome and Sept. 5, 2015, again at Arizona Stadium. The Roadrunners will play Arizona State on Sept. 17, 2016, in the Alamodome and Sept. 1, 2018, in Tempe, Ariz.
The program unveiled in March a three-game series with Baylor that will be played Sept. 9, 2017, at Floyd Casey Stadium in Waco, Sept. 8, 2018, in San Antonio and Sept. 7, 2019, back in Waco.
UTSA released its inaugural schedule that same month, which includes home games against Northeastern State (Sept. 3), McMurry (Sept. 10), Bacone College (Sept. 24), South Alabama (Oct. 8), Georgia State (Oct. 29) and Minot State (Nov. 19). UTSA has road dates at Southern Utah (Sept. 17), Sam Houston State (Oct. 1), UC Davis (Oct. 15), Northwestern State (Oct. 22) and McNeese State (Nov. 12).
Sam Houston State (Sept. 8), UC Davis (Oct. 27), Southern Utah (Oct. 20) and McNeese State (Nov. 10) all will return games at UTSA in 2012. UTSA will return games to South Alabama (Sept. 1) and Georgia State (Sept. 29) that same season.
All schedules are tentative and subject to change.
The University of Texas System Board of Regents unanimously approved UTSA's Athletics Initiative Business Plan on Dec. 18, 2008, which granted the university permission to add a football program. On March 6, 2009, Coker was introduced as the program's first-ever head coach.
UTSA will begin play as an NCAA Football Championship Subdivision (FCS) Independent in 2011. It then will notify the NCAA in June 2012 of its intent to advance to the Football Bowl Subdivision (FBS) by 2014. The Roadrunners will comply with FBS standards during the 2013 season, then will seek full FBS membership and bowl eligibility in 2014.
UTSA signed its first recruiting class in February and will redshirt all incoming players during the 2010-2011 school year. The first practices will be held this fall and the first game will be against Northeastern (Okla.) State on Sept. 3, 2011, at the Alamodome.
UTSA is offering fans an opportunity to place a $50 deposit on season tickets online at goUTSA.com or by calling the ticket office at 210-458-UTSA (8872). Season ticket packages will go on sale in July 2010. Deposits are non-refundable and will be applied to the cost of season tickets in 2011.
Read more at the UTSA Athletics website.