Commencement sketches: Brief looks at some spring 2010 graduates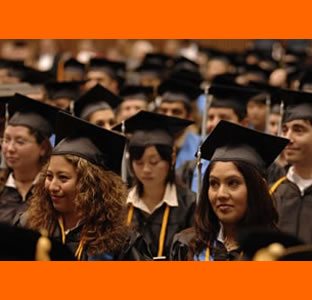 Share this Story
(May 5, 2010)--An estimated 2,851 graduation candidates will walk the stage as The University of Texas at San Antonio celebrates six commencement ceremonies May 6-8 in the Convocation Center on the Main Campus. Following are sketches of some of the graduates-to-be from across the university.
>> Read details about the UTSA Spring 2010 Commencement ceremonies May 6-8.
------------------------------
Adrian Alfonso
Bachelor of Arts degree, mechanical engineering, College of Engineering
"Adrian has a fascinating story," said Michael Edward White, lecturer in political science and geography. "He came to the United States eight years ago from Cuba, via Mexico. He was educated as an accountant in Cuba, made his way to the United States, worked hard, learned English and is completing his engineering degree this month."
------------------------------
Mary Bollinger
Doctor of Philosophy degree, applied demography, College of Public Policy
"The Department of Demography and Organizational Studies is pleased to honor Mary Bollinger as the first Ph.D. graduate in the program," said Francine Romero, associate dean of the College of Public Policy. "The first class of students enrolled in fall 2006 and 25 students are currently in the program."
"Mary was born and raised in San Antonio and graduated from high school in Bandera. The third of five children born to Mary Caves and William Conaway, she is married and has a daughter and three sons. Mary earned her B.A. degree in sociology from UTSA and a master of public health degree from the UT Health Science Center in Houston. She plans to continue on with the V.A.'s VERDICT research center, but in a new capacity -- data manager and health services researcher. Her dissertation is a study of obesity in South Texas veterans in the V.A. health care system. She received a writing fellowship in the Department of Applied Demography, a UTSA Presidential Dissertation Fellowship and the College of Public Policy Student Research Competition paper award."
------------------------------
Tabitha Borko
Master of Social Work degree, College of Public Policy
"Tabitha has Usher's Syndrome and is completely deaf and also visually impaired, though she does have some sight," said Rosalie Ambrosino, professor of social work. "Throughout her degree program, she has taken 12 hours each semester and has a 4.0 G.P.A. She is excelling in her field practicum and has gotten some good press in the community for her efforts to strengthen services for the elderly who have hearing impairments. She did her first field practicum at an area school district and was hired to work there part-time facilitating groups for parents of hearing impaired children. In May 2003 at UTSA, Tabitha received a B.S. degree in interdisciplinary studies with a concentration in reading."
------------------------------
Orlando Marchan
Bachelor of Arts degree, architecture, College of Architecture
"Orlando will be the first to graduate from college in his family," said history lecturer Lesli Hicks. "He is graduating in architecture in four years, when the average is usually five years. He tested out of Spanish and received credit for Spanish 1-4. He is a graduate of Business Careers High School. He is an officer for La Despedida, a bilingual-bicultural graduation ceremony held at the UTSA Downtown Campus. Orlando was one of 10 students in his middle school to receive a scholarship from American Funds because of his diligence and hard work."
------------------------------
Rahwa Neguse
Master of Public Administration degree, graduate certification in nonprofit leadership and administration, College of Public Policy
"Rahwa and her family immigrated from the northeast African nation of Eritrea to the United States in 1984 when she was a toddler," said Renee Nank, assistant professor of public administration. "Before immigrating to the United States, they lived in a refugee camp in Sudan. She and two older sisters were born in Sudan. Her two older brothers were born in Eritrea and her younger brother was born here in Fort Worth, Texas. She completed elementary school, junior high, high school and college in Fort Worth. Additionally, Rahwa graduated from Texas Christian University with a B.A. in sociology in 2005."
------------------------------
Bea Perez
Master of Science degree, sociology, College of Liberal and Fine Arts
"Bea is the mother of two and once was a homeless student in high school when her father lost his job," said Harriett Romo, professor sociology and director of the UTSA Mexico Center. "She has presented academic papers at six regional and national academic conferences including the American Sociological Association, the American Educational Research Association and the Southwestern Social Science Association."
"She was just elected the student representative of the executive council of the Southwestern Social Science Association. She will be completing her thesis this summer, which is a compilation of the papers she has presented at these conferences. She was key in organizing and leading the Sociology Graduate Student Association and the national Sociology Honors Association, AKD at UTSA. She will be applying for Ph.D. programs in the fall and will teach classes as an adjunct professor in the sociology department as she waits to see where she will be accepted. Bea has worked on a research project interviewing foster care youth as they age out of state care and is organizing programs at UTSA to assist foster care youth."
------------------------------
Nicole Robbins
Bachelor of Arts degree, English, emphasis in professional writing, legal studies minor, College of Liberal and Fine Arts
"Nicole has been a UTSA Ambassador and served for two years as secretary to the Beta Omega chapter of Sigma Tau Delta, the English National Honor Society," said Barry McKinney, director of student activities. "Nicole has been involved in these activities, and at the same time uses a wheel chair. She spent the spring 2008 semester as a legal intern at the capitol in Austin, part of the prestigious statewide internship program, and her academic record is perfect. Also, Nicole's parents are professors in the UTSA Department of Computer Science."
------------------------------
Sheri Swandal
Master of Social Work degree, College of Public Policy
"Sheri is a former officer who was at Walter Reed Army Medical Center in Washington," said Rosalie Ambrosino, professor of social work. "She received a Hogg Foundation fellowship and has a job at a base in Colorado already. Her husband is still in the military and he is being sent there. She also is a mother of three children."
------------------------------
David Underwood
Master of Arts degree, history, College of Liberal and Fine Arts
"History M.A. candidate David Underwood has the most compelling and distinctive history of any student I've seen in our program," said Gregg Michel, associate professor of history."He is a decorated veteran of the Iraq War who began his graduate studies after sustaining life-threatening wounds in a bomb attack. He has excelled in our program and remarkably, given his injuries, is resuming his military career this summer."