UTSA leader and avid Roadrunner Jane Burton retires after 33 years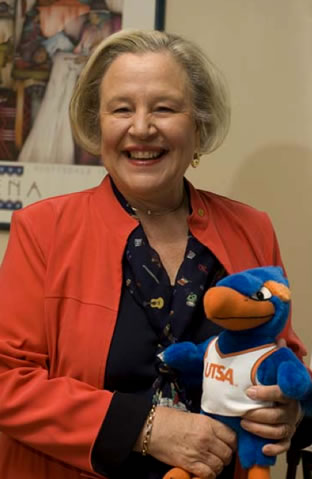 Share this Story
(May 24, 2010)--After 33 years, Jane Burton -- a leader, creator and avid Roadrunners supporter -- is saying goodbye to daily duties at The University of Texas at San Antonio.
"I think it's time," says the retiring Burton, who can include securing the university's first student union among her long list of accomplishments.
Under Burton's leadership as assistant vice president of alumni programs, the Alumni Association has grown to nearly 4,000 members. And, the organization's signature events -- AuthorSpeak!, Alumni Gala and Diploma Dash -- have become hot ticket events in the area.
Burton has called UTSA home since the late '70s, when the wildlife outnumbered the students.
She has been director of student activities, assistant director for development in athletics and was the first development officer in the College of Fine Arts and Humanities (now called the College of Liberal and Fine Arts) before taking charge of the Office of Alumni Programs in 2000.
"My fondest memories are always going to be the people I got to know. The students, the alumni, the faculty and staff I have worked with -- those are going to be the real memories, and those memories definitely will stand the test of time," Burton says.
"Jane Burton is UTSA through and through," says Jim Mickey '78, the new executive director of alumni programs. He describes Burton as a wonderful person and gifted team builder -- a person who has an infectious spirit for UTSA.
"She has been here since I was a student and first met her in 1977. She is great at building relationships with students, alumni and faculty members," he says. "I was talking to an alum recently who graduated in the early '90s and he mentioned how Jane's recommendation letter helped him land his first job after graduation. She is always willing to help, and she is so friendly."
Student success is very important to Burton, and she devotes immeasurable attention to it, often going above and beyond the call of duty, her colleagues say.
With a tilt of her head and softening in the eyes, she fondly talks about the growth of the Alumni Association, increasing the number of scholarships and endowments in COLFA, and raising money for women's sports in 1988 as chair of the Women's Walk committee.
Marcia Mattingly '77, communications consultant for alumni programs, remembers the event.
"When I think about Jane, bluebonnets and laughter come to mind," she says. "I met Jane just a few years out of UTSA when I helped organize walking teams for the Women's Walk for Athletics fundraiser. She was the heart and soul behind that effort. The volunteer thank-you bag was tied with a Texas bluebonnet," Mattingly added.
After joining the staff of the Office of Alumni Programs, Mattingly says she witnessed over and over Burton's wonderful heart and soul. "I carry her distinctive laugh in my head and in my heart. She is one in a million," added Mattingly, who also is saying goodbye to the university after almost six years of working in alumni programs.
Another first for UTSA under Burton's leadership was the establishment of fraternities and sororities on campus.
"When I came to UTSA there were about 10 student organizations and there were no Greek organizations," Burton says. "So, I remember making a trip to Austin to talk to the leader of the Panhellenic Council at UT."
Jan Steger, chief of staff in the UTSA Office of the President, remembers that day. That's because Burton's visit was with Steger's mother, Evelyn Bennett. The year was 1978.
"In order to get started the correct and legal way, Jane invited my mother, who was executive director of the Panhellenic Council (she remained in that position for more than 35 years) to UTSA to help set up the organizations," Steger says. "Many traditions that exist today were initiated with Jane's guidance and help."
She also acknowledges Burton's contagious joy and happiness, but added that her organizational skills are just as tremendous.
"When Jane is given an assignment, before the next hour is over she has already figured out the divisions of the task and how she will go about accomplishing them. When she is not the leader, she is the best team member in the group," Steger says.
Of everything she has done at UTSA, Burton says her greatest achievements were the establishment of campus housing and the construction of the first student union.
"We started talking about housing probably in 1984. The very first unit built was Chisholm Hall," she says. "At the same time, the student union was literally a space in the basement of the Science Building."
Burton describes it as a room with a TV, vending machines and a few pool tables. She says the Student Government Association office was a closet within the lounge area and the bookstore was located in a small room next door.
"I gathered a group of students together and we traveled to other campuses to see what a student union could be and what it could be for them," she says. "We conducted a referendum, which passed, and the building was constructed in '85."
Today the University Center, as it is called now, is about 200,000 square feet and consists of three buildings connected by walkways.
"I can't say enough about the impact Jane has made in her 33 years at UTSA," Steger says. "She is an institution unto herself -- everyone knows who she is and everyone will miss her daily at this campus."
So what now for the friend, colleague and history maker, who has seen and done so much for UTSA?
She plans to enjoy life with husband, Tuffy, who is retiring from teaching middle school at Texas Military Institute. The two plan to attend as many UTSA events as they possibly can because, as Burton puts it, "I will always be a Roadrunner."
"It has been such a privilege to know Jane," says Marjie French, vice president of university advancement. "She has breathed such life into this university, not only for the students but for alumni, faculty and staff. She has created so many traditions that will forever be a part of the fabric of this university.
"What an amazing lady! I'm sure that Jane is planning her next great adventure and we wish her all the very best."
Burton's last day is May 28.