Irene Maldonado named SBA Minority Business Champion of the Year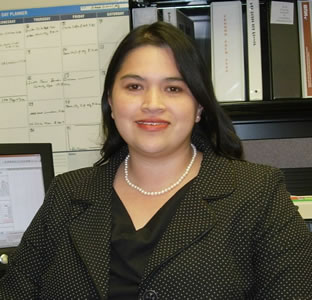 Share this Story
(May 25, 2010)--The San Antonio District Office of the U.S. Small Business Administration (SBA) and the South-West Texas Border Small Business Development Center Network honored Irene Maldonado, UTSA HUB program manager, as the SBA Minority Business Champion of the Year.
Maldonado received the award at a May 20 ceremony at the UTSA Downtown Campus as part of SBA's Small Business Week.
"I'm very humbled to be in the company of so many small business advocates," said Maldonado. "I could not have achieved this without the support of my department."
In fiscal year 2009, UTSA ranked third among the University of Texas System institutions in the percentage of eligible expenditures spent with historically underutilized businesses (HUB). UTSA spent more than $16.5 million with HUB vendors, which are minority- and women-owned businesses certified by the state. The total amount spent with HUB vendors accounted for more than 25 percent of UTSA's eligible purchases.
Every year since 1963, every president of the United States has declared National Small Business Week to formally recognize the important role and contribution of America's small businesses. Events nationwide recognize top entrepreneurs for their achievements including individuals and organizations that champion small business.
Small business champions are chosen based on advocacy efforts to support home-based and women-owned businesses and minority entrepreneurship. Financial champions are chosen for efforts in providing financial services to small business owners.