'Memorial Memories' big-band concert honors veterans, VE Day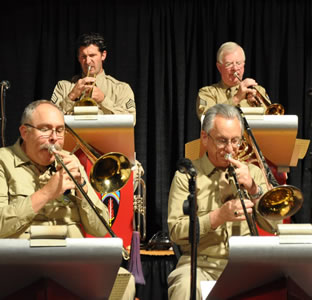 Share this Story
(May 25, 2010)--The Institute of Texan Cultures, Air Force Village and community partners will pay musical tribute to the men and women who serve or have served in the U.S. Armed Forces with "Memorial Memories," a free big-band concert from 2:30 to 5 p.m., Sunday, May 30 at the Institute of Texan Cultures.
The annual concert features the big-band era sounds of the Sentimental Journey Orchestra under the direction of Ted Conerley. Along with soloist Jessie Boatright and the Memphis Belles trio, the 19-piece orchestra will play original arrangements of jazz and swing classics that will have the audience dancing in the aisles.
The 2010 concert will commemorate the 65th anniversary of VE Day (Victory in Europe). On May 8, 1945, the Allied forces accepted the unconditional surrender of Nazi Germany. The institute will use the Dome Show Theater to showcase historic images from the era.
The doors will open at noon, and there will be one intermission during the concert. Preferred seating will be available to museum members at the "Mockingbird" level and above. For membership details, visit the Institute of Texan Cultures website.
The Institute of Texan Cultures is on the UTSA HemisFair Park Campus, 801 E. Durango Blvd., a short distance from the Alamo and the River Walk. Hours are 9 a.m.-5 p.m., Monday-Saturday, and noon-5 p.m. Sunday. Admission is $8 for adults (ages 12-64); $7 for seniors (ages 65+); $6 for children (ages 3-11); free with membership, UTSA or Alamo Colleges identification. For more information, call 210-458-2300 or visit the TexanCultures.com.
------------------------------
The Institute of Texan Cultures, through its research, collections, exhibits and programs, serves as the forum for the understanding and appreciation of Texas and Texans. On the UTSA HemisFair Park Campus in downtown San Antonio, the institute strives to become the nation's premier institution of contemporary cultural and ethnic studies focusing on Texans and the diverse cultural communities that make Texas what it is. An agency of the UTSA Office of the Vice President for Community Services and a Smithsonian Affiliate, the 182,000-square-foot complex features 45,000 square feet of exhibit space and five re-creation Texas Frontier period structures.