South Side refinery explosion has not affected UTSA campuses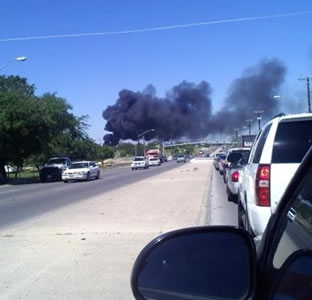 Share this Story
(May 5, 2010, 2:30 p.m.)--Firefighters are battling a fire at a San Antonio South Side refinery at 7811 South Presa following an explosion Wednesday morning. UTSA officials are in contact with city officials regarding the situation, and the UTSA Downtown and HemisFair Park campuses are not in the affected area. UTSA officials will continue to monitor the situation and updates will be provided as necessary.
According to WOAI.com, San Antonio Fire Department officials evacuated people within a one-mile radius of the refinery. Officials said a fuel truck exploded at approximately 11:30 a.m. at AGE Refining on South Presa near Southeast Military Drive. At least two people were injured including a driver who was burned. The extent of their injuries is not known.
Police closed Southeast Military Drive between Roosevelt and South New Braunfels and South Presa, between Southeast Military Drive and Hot Wells. An AGE official said approximately 50 employees were working at the refinery and were evacuated.