UTSA invests $252K in collaborative, multidisciplinary research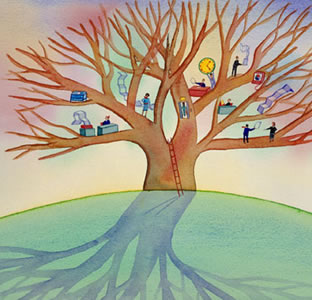 Share this Story
(May 27, 2010)--The UTSA Office of the Vice President for Research has awarded $252,000 to UTSA researchers and their collaborators through the Collaborative Research Seed Grant Program (CRSGP) and the Tenure-track Research Award Competition (TRAC) program.
The funding programs help UTSA faculty establish new, innovative, collaborative and multidisciplinary research programs in one or more of UTSA's five strategic areas of excellence: health, security, energy and the environment, human and social development, and sustainability.
Contingent on next year's funding, these proposals will receive 2011-2012 seed grant money:
FY 2012 Collaborative Research Seed Grant Winners
Award total: $30,000 per project
A Novel M2e-based Vaccine to Influenza A Virus
Co-Principal Investigator: Hans Heidner, Department of Biology, College of Sciences
Co-Principal Investigator: Blanca Lupiani, Texas A&M
Researchers will develop a "universal" influenza vaccine for mammalian and avian hosts that does not need to be reformulated every year, as is required for current influenza vaccines.

Developing Countermeasures Against Combat Wound Infections
Co-PI: Tao Wei, Department of Biology, College of Sciences
Co-PI: Guangming Zhong, University of Texas Health Science Center
Researchers will develop an effective therapeutic agent to clear Acinetobacter baumannii bacterial infections from combat wounds.

Securing the Smart Power Grid
Co-PI: Shouhuai Xu, Department of Computer Science, College of Sciences
Co-PI: Chunjiang Qian, Department of Electrical and Computer Engineering, College of Engineering
Over the long-term, researchers will invent a holistic solution to securing the smart grid to make the grid resilient to attack.

A Framework for Coastal Flows Using Large-Scale Numerical Simulations
Co-PI: Kiran Bhaganagar, Department of Mechanical Engineering, College of Engineering
Co-PI: Debashis Basu, Southwest Research Institute
Researchers will use their proprietary direct numerical simulation tool to better predict the transport of sediment over rippled, ridged and dune-like surfaces for coastal flow studies.
FY 2012 Tenure-Track Research Award Competition
Award Maximum: $22,000/project
Low Temperature Storage of Platelets for Transfusion
PI: Anand Ramasubramanian, Department of Biomedical Engineering, College of Engineering
Researchers aim to understand platelet physiology during low temperature storage, which may extend shelf-life and improve function of platelets compared to current standards.

Analyzing the Role of Candida Albicans Filamentation in Vaginal Colonization, Persistence and Capacity to Induce a Local Immune Response
PI: Stephen Saville, Department of Biology, College of Sciences
Three-quarters of women will experience a vaginal yeast infection. Our ability to model this disease is hampered because, unlike humans, rodents rapidly clear the fungus. This project will examine whether this is due to differences in the morphology of the infecting Candida albicans cells..

Development of Mobile BeeHive Anodes for Increased Power Production in Air-Cathode Microbial Fuel Cell and Their Microbial Profiling
PI: Ruoting Pei, Department of Civil and Environmental Engineering, College of Engineering
Researchers will develop and evaluate a BeeHive anode electrode to increase the power of microbial fuel cells, a promising technology to generate power and treat waste.

Innovative Eco-Concrete Sustainable Design Using Peridotite Rocks to Enchance CO2 Absorption
PI: Samer Dessouky, Department of Civil and Environmental Engineering, College of Engineering
Study aims to build environmentally friendly concrete using peridotite, a porous rock type which absorbs carbon dioxide, to reduce green house gas emissions.

The Role of Aurora B and Survivin in Human Embryonic Stem Cell Cycle Regulation and Pluripotency
PI: Christopher Navara, Department of Biology, College of Sciences
Embryonic stem cells regulate their growth and division in a fashion unlike adult cells and bear many similarities to cancer cells. Researchers will study the role of two regulatory proteins, Aurora B and Survivin, in addition to clarifying cell growth in human embryonic stem cells, early human development and cancer.

Large-Scale Mining Development and Agricultural Change in Papua, New Guinea
PI: Jamon Alex Halvaksz, Department of Anthropology, College of Liberal and Fine Arts
Researchers will compare changes in agricultural practices in two neighboring Biangai communities in Papua New Guinea, one that receives cash and benefits from industrial gold mining and one that pursues subsistence agriculture.