UTSA shuttle service to Chisholm and Chaparral facilities ends Aug. 19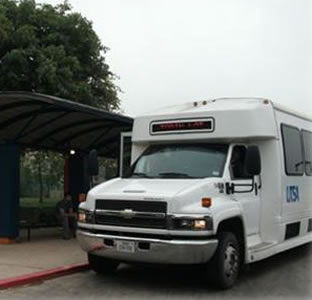 Share this Story
(May 3, 2010)--UTSA on-campus shuttle service to Chisholm Hall and Chaparral Village campus housing will end Aug. 19. Shuttle service to the Tobin Laboratories lot will continue on route 43, serving the west and north sides of the Main Campus. Students in Chisholm and Chaparral Village can catch the shuttle at the Tobin lot. Students should be at the shuttle pick-up point 30 to 45 minutes before their classes begin.
Three large buses assigned to the revised route 43, which goes from lot 11 (adjacent to the Child Development Center and University Oaks apartments), to Sam Barshop Boulevard, to the Tobin lot, to lot 3 adjacent to the Business Building, and then back. Buses will come every 10-15 minutes.
A projected budget shortage has resulted in a reduction in UTSA shuttle service for next year. This change was reviewed and supported by the Student Transportation Committee.
For more information, e-mail transportation@utsa.edu.