Summer Law School Preparation Academy opens with Texas professionals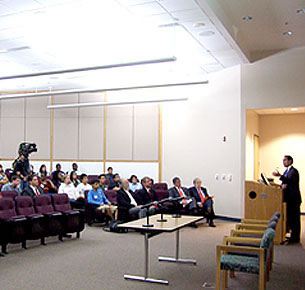 Share this Story
(June 2, 2010)--The UTSA Institute for Law and Public Affairs Summer Law School Preparation Academy (SLSPA) celebrated its ninth annual opening day ceremony this week at the UTSA Downtown Campus. This year's class of 125 students is the largest since the academy was established in September 2001.
SLSPA provides a rigorous academically intensive 12-credit-hour training course over a three-month period led by faculty from UTSA and the University of Texas at Austin School of Law.
The ceremony featured presentations and panel discussions by local dignitaries, legal professionals, faculty members and former academy participants currently pursuing legal studies or practicing law.
Speakers included Mayor Julian Castro, state Senator Jeff Wentworth, state Representative Ruth Jones McClendon, U.S. District Judge Xavier Rodriguez, U.S. District Judge Orlando Garcia, 407th District Court Judge Karen Pozza, 150th District Court Judge Janet Littlejohn, City of San Antonio Attorney Michael Bernard, UT Austin School of Law Dean Lawrence Sager, UTSA President Ricardo Romo and other professionals.
"We are not producing more lawyers. We are assuring that our students secure their rightful share of the attorneys that are being produced nationally," said Richard Gambitta, director of the UTSA Institute for Law and Public Affairs. "We are demonstrating that enhanced higher education translates into results."
Over the last nine years, SLSPA has helped students gain acceptance to more than 140 law schools across the nation including Harvard University, University of California at Berkeley, University of Chicago, Columbia University, New York University, University of Michigan, University of Minnesota, Georgetown University, Cornell University, University of Virginia, University of Texas at Austin and all other law schools in Texas.
"The skills and knowledge I received at the institute allowed me to excel in my first year of law school at the University of California at Berkeley," said Gretchen Harting , attorney for McKool Smith PC. "I was stunned by how far my knowledge exceeded others with undergraduate degrees from prestigious schools like Brown, Princeton, Stanford and Harvard."
The UTSA Institute for Law and Public Affairs enhances pre-law educational opportunities and increases the number of Texas students who gain admission to and excel in high-quality law schools. The institute also executes the UTSA Legislative Scholars program, which provides $10,000 to students selected to be legislative assistants during the Texas House of Representatives legislative session.