Conference highlights research in UTSA College of Sciences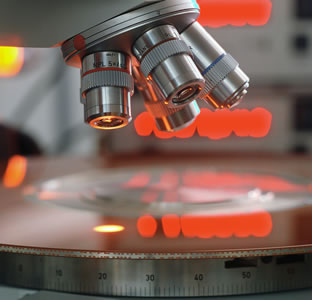 Share this Story
(June 7, 2010)--To recognize scientific research conducted in the UTSA College of Sciences, its second annual research conference was conducted May 28 in the University Center Ballroom on the Main Campus.
George Perry, UTSA College of Sciences dean and one of the world's top 10 Alzheimer's disease researchers, opened the daylong conference. Following his welcome, UTSA undergraduate and graduate students gave presentations in moderated sessions on their research in cellular and molecular biology, microbiology and immunology, neurobiology, chemistry, computer science, and physics and astronomy. In the afternoon, students from all scientific disciplines presented their research in 90-minute poster sessions.
UTSA Professor John McCarrey, director of the San Antonio Institute for Cellular and Molecular Primatology, delivered the conference keynote address, "The Promise of Stem Cell Research and Regenerative Medicine: Opportunities for UTSA and the San Antonio Research Community." McCarrey discussed stem cells and regenerative medicine, what UTSA is doing in the field and how San Antonio can most effectively contribute to the field.
The conference concluded with an awards ceremony and closing remarks by Robert Gracy, UTSA vice president for research, and John Frederick, UTSA provost and vice president for academic affairs.
The research conference was sponsored by KCI, Southwest Foundation for Biomedical Research, Alpha Diagnostic International, Sigma-Aldrich and Sigma Xi, in addition to the UTSA College of Sciences, College of Engineering, Office of the Vice President for Research, Institute for Cyber Security, Center for Water Research and South Texas Center for Emerging Infectious Diseases.