UTSA, UTHSCSA collaborate on program to combat childhood obesity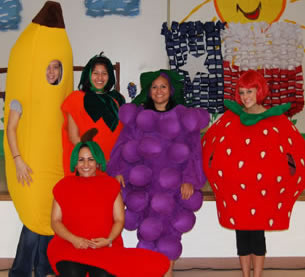 Share this Story
(June 4, 2010)--The UTSA College of Education and Human Development and the UT Health Science Center at San Antonio are collaborating to combat the growing problem of childhood obesity in San Antonio. Both universities are partners in the San Antonio Life Sciences Institute (SALSI) Get Healthy Together/Juntos y Saludables grant program, a joint initiative assessing the effect of obesity and diabetes prevention efforts in early childhood.
The grant is a two-year project in three pre-schools that teach primarily Mexican-American children. Get Healthy Together is funded through SALSI, which received $8 million to fund this and other projects in the last session of the Legislature.
Last month, the "Sesame Street" television character Cookie Monster teamed with graduate students in the UTSA Department of Kinesiology to help children and parents from the Burleson Early Childhood Education Center and Stafford Early Childhood Education Center celebrate an entire school year of the "Healthy Habits for Life" health curriculum. The two Edgewood Independent School District centers hosted the project interventions, which included activity cards on outdoor play and nutrition, parent education seminars on obesity, training on physical activity and nutrition, and a staff wellness programs.
Other unique features of the project include a strengthened, structured gross-motor program, child literacy-based gross-motor activities, a cafeteria healthier eating promotion campaign and a staff wellness program. The Cookie Monster, long known as a gobbler of delicious cookies, now reminds children that cookies are a "sometimes" snack food and promotes the eating of fruits and vegetables.
Get Healthy Together is testing whether it is possible to indoctrinate students for life with healthier behaviors via positive interactions with their parents, teachers and other school personnel. "Juntos y Saludables" is based on the concept that children will indeed develop healthy behaviors if provided an interactive, supporting learning environment at school and at home, according to co-principal investigator Zenong Yin, Loretta J. Lowak Clarke Distinguished Professor in Health and Kinesiology at UTSA.
"Family involvement is very critical in formulating health behaviors in young children," said Yin. "In Get Healthy Together, we are using innovative strategies to actively involve parents and family members in children's learning of healthy habits."
UTSA kinesiology faculty and students involved in the project included Assistant Professor Alberto Cordova and graduate students Desiree Acosta, Rebecca Adejibe, Daisy Escamilla, Lisa Blais, Arely Perez, Bonnie Dillon and Amanda Vaquera.
"We believe this collaborative project will help preschool-aged children develop healthy habits that will last into grade school, adolescence and adulthood, as well as increase parents' awareness of the importance of good nutrition and physical activity for themselves and their children," said Amelie G. Ramirez, co-principal investigator of the project and director of the Institute for Health Promotion Research at the UT Health Science Center at San Antonio. "The sooner children and parents are exposed to these beneficial messages, the better."
Ramirez and other project researchers have associations with the Robert Wood Johnson Foundation National Childhood Obesity Prevention Program. Through these connections, the Get Healthy Together project can use a bilingual curriculum for children ages 3-5 that was developed by the Children's Television Workshop (CTW) and features "Sesame Street" characters, songs and dances. Project directors are collaborating with CTW production research staff for the duration of the project, May 2009 to August 2011.
Research suggests that efforts to prevent obesity should begin early in life because of the prevalence of obesity persisting into adulthood. An estimated 25 percent of preschool children are overweight; therefore intervening during early childhood should be a priority. Low-income minority children are at the greatest risk to be overweight at an early age, so intervention at ages 3-5 with these population groups is critical to prevent obesity.
Mexican-Americans have an obesity rate of 22 percent among children ages 2-5. The population of San Antonio is 57 percent Hispanic. Hispanic children in San Antonio are further at risk for obesity because they are more likely to live in families of a low socioeconomic status, have parents whose highest academic achievement is high school or less, and live in neighborhoods where outdoor physical activity is restricted by climate, safety concerns or lack of facilities.
The project teams faculty from the Department of Health and Kinesiology at UTSA with faculty from the Institute for Health Promotion Research, which is part of the UT Health Science Center at San Antonio School of Medicine.