San Antonio Silver Stars recognize Lynn Hickey on Inspiring Women Night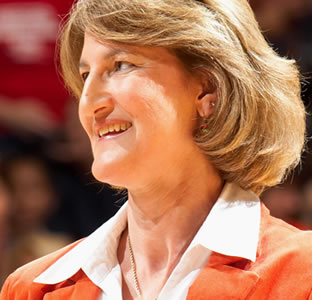 Share this Story
(June 8, 2010)--As part of the San Antonio Silver Stars Inspiring Women Night, UTSA Athletic Director Lynn Hickey was one of six San Antonio women honored for their personal and professional achievements at the Silver Stars May 22 game against the Los Angeles Sparks at AT&T Center.
The other honorees were Johnson High School girls' basketball coach Audra Bredemeyer, Texas A&M University-San Antonio President Maria Hernandez, Family Service Association President and CEO Nancy Hard, KABB Anchor and Reporter Karen Martinez and board certified hematologist and medical oncologist Sharon Wilks.
"UTSA is very fortunate to have an athletics leader with both the administrative and coaching experience of Lynn Hickey," said UTSA President Ricardo Romo. "Lynn not only is a leader who can take our athletics program to the next level, but she also is well respected nationally and serves as an excellent role model for all student-athletes at this university."
Hickey has made student-athlete welfare one of her top priorities as she continues to work to bring the UTSA Department of Intercollegiate Athletics to the upper echelon of the NCAA Division I standings. Under Hickey's direction the last nine years, UTSA has claimed three Southland Conference all-sports championships while consistently winning both team and individual awards in all 16 sports sponsored by the university.
On Dec. 18, 2008, UTSA's Athletics Initiative Business Plan was approved by the UT System Board of Regents, granting permission to start a football program. Hickey made a splash with the hiring of the first UTSA head football coach, as two-time National Coach of the Year Larry Coker was introduced March 6, 2009.
Hickey has led the charge for UTSA and its hosting of numerous NCAA Championship events. Since her arrival on campus, UTSA has served as host institution for the 2001 NCAA Men's Basketball Midwest Regional, 2002 Women's Final Four, 2003 Men's Basketball South Regional, 2004 Men's Final Four, 2005 Women's Volleyball Championship, 2006 Women's Basketball South Regional, 2007 Men's Basketball South Regional and 2008 Men's Final Four and will host the 2010 Women's Final Four, 2011 Men's Basketball Southwest Regional and 2011 Women's Volleyball Championship. By 2012, UTSA will have hosted 14 NCAA Championship events in 15 years.
In 2007, Hickey was named to the NCAA Division I Men's Basketball Committee, one of the most prestigious appointments in collegiate athletics. The 10-member committee oversees administration of the NCAA Division I Men's Basketball Championship including the selection and seeding of teams for the tournament. Hickey became the second woman selected to the committee, joining UNC-Charlotte Athletic Director Judy Rose, who served 1999-2003.
Hickey has been honored nationally for her work at UTSA. She was named the National Association of Collegiate Women Athletics Administrators 2005 Division I-AAA Administrator of the Year. She earned her second national award in June 2006 as the National Association of Collegiate Directors of Athletics (NACDA)/GeneralSports TURF Systems Division I-AAA West Region Athletic Director of the Year.
In serving as the fourth UTSA athletic director, Hickey assumed the lead athletics role at one of the youngest NCAA Division I universities in the country (UTSA began athletic competition in 1981). The only female Division I athletics director that oversees both men's and women's sports in the state of Texas, she served as president of the Southland Conference from 2002 to 2004 and as the SLC's representative to the NCAA Championship/Competition Cabinet.
"It has been an exciting nine years," said Hickey, who served on the Women's Basketball Rules Committee from 2003 to 2006, the last two as chair. "We have made some good strides to bring the program to prominence nationally. San Antonio is an outstanding city and is a tremendous asset to the unlimited potential of the UTSA athletics program."
Hickey came to San Antonio from Texas A&M University, where she served as senior associate athletic director/senior woman administrator from 1984 to 1994. At Texas A&M, her responsibilities included event management and marketing and promotions for 16 of the university's 19 Division I sports.
She directed the 1993-1994 Aggies basketball team to the NCAA Tournament Sweet 16, becoming the lowest-seeded team to ever reach that milestone. Following the season, Hickey relinquished her coaching duties to accept the promotion to senior associate athletic director. She finished her coaching career with an overall mark of 279-167 in 15 years of collegiate coaching.
Before her stint at A&M, she was head women's basketball coach at Kansas State University from 1979 to 1984. She averaged more than 23 wins per season in posting a 125-39 (.762) record over five years and led the Wildcats to five consecutive NCAA Tournament berths. She was inducted into the Kansas State Athletics Hall of Fame in September 2004.
A native of Welch, Okla., Hickey graduated summa cum laude from Ouachita Baptist University in Arkadelphia, Ark., with a bachelor's degree in education. She was an All-American for OBU's nationally ranked basketball team and a member of the U.S.A. National Team in 1973. Hickey and her husband, Bill, have one daughter, Lauren Nicole.