UTSA 'New Art-Arte Nuevo' exhibit presents 35 artists from across Texas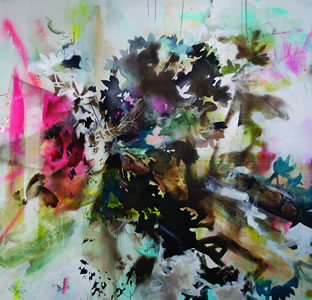 Share this Story
(June 9, 2010)--The UTSA Department of Art and History will present a juried exhibition, "New Art/Arte Nuevo: San Antonio 2010," with works from 35 artists who live, work or have roots in South and West Texas. Free and open to the public, the exhibition runs June 9-Aug. 6 in the Arts Building Gallery on the UTSA Main Campus.
>>An opening reception will be 6-8 p.m., Wednesday, June 9. Free parking will be available in lot 8 during the reception.
The exhibit represent an array of aesthetic interests and themes that range from representational imagery to abstract design and from cultural criticism to sublime expression in works that extend across the range of traditional and new media.
The jurors -- Malaquias Montoya, artist and professor emeritus in Chicana-Chicano studies and art, University of California, Davis, and Valerie Cassel Oliver, curator, Contemporary Arts Museum Houston -- made selections from more than 500 works of art that were submitted by 135 artists.
Gallery hours are 1-4 p.m., Monday-Friday, and by appointment.
For more information, contact Laura Crist at 210-458-4391.
------------------------------
Directions
The UTSA Art Gallery is in the Arts Building on the Main campus. From Interstate 10, take exit 557 to UTSA Boulevard. At the second traffic light, turn right onto James Bauerle Boulevard. Turn left onto O'Neil Ford Avenue and then make an immediate right into lot 8. The Arts Building is on the right at the top of the walkway to the center of campus.