Mark your calendar: 11th annual UTSA Reflections Alumni Gala is Aug. 28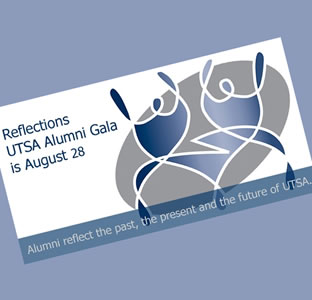 Share this Story
(July 22, 2010)--Join alumni and friends for the eleventh annual UTSA Reflections Alumni Gala on Saturday, Aug. 28 at the Omni Hotel at the Colonnade grand ballroom.
The cocktail reception will feature music and a silent auction starting at 6:15 p.m. Dinner will be served at 7:30 p.m. and the program will begin at 8:20 p.m. Following the dinner program, Henry Brun and the Latin Playerz will entertain guests who want dance the night away. Dress for the evening is black tie optional for men and cocktail attire for women.
Reflecting upon the past, present and future of UTSA is a central theme of the Reflections Gala, and this year Ingrid Barth Faris'83 and Barbara Gentry will be recognized for their contributions and service to the university. Faris will be honored as Alumnus of the Year and Gentry will be presented with the Distinguished Service Award.
Raising scholarship funds for UTSA students also is fundamental to the success of the gala, and this year's goal is to raise $100,000. Scholarship funds come from the table sponsorships, seat reservations, power drawing ticket sales and personal donations.
For more information, to make gala reservations or to donate to the UTSA Alumni Scholarship Fund, visit the UTSA Alumni webite or call 210-458-4133.