Institute of Texan Cultures: Buffalo Soldier -- Discovering Heritage on Texas Frontier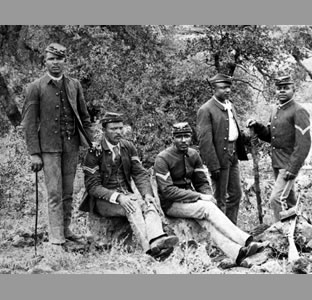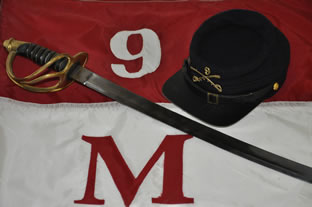 Share this Story
(July 21, 2010)--The Institute of Texan Cultures will open "Buffalo Soldiers: Discovering Heritage on the Texas Frontier" on Thursday, July 22. The new exhibit discusses the historic African-American military units formed after the Civil War and stories of Buffalo Soldier descendents rediscovering their heritage.
The institute's exhibit focuses on the Ninth Cavalry, which formed in New Orleans and moved to San Antonio in 1867 before dispersing to Fort Stockton, Fort Davis and Fort Concho. It resembles a campaign camp. Artifacts, uniforms, equipment and a full-size model horse with cavalry saddle are presented around the campsite. Exhibit developers collaborated with Fort Davis and Fort Concho national historic sites and historical organizations to acquire artifacts.
On the frontier, buffalo soldiers protected friendly Indians and settlers from hostile Indians and outlaws. They escorted U.S. mail and stagecoaches. They built roads and mapped the frontier. Folklore suggests that Indians nicknamed the units for the soldiers' short, curly hair, which they said resembled buffalo hair.
Several buffalo soldiers chose to remain in Texas after leaving the regiment. A portion of the exhibit tells the personal stories of buffalo soldier descendants and what they learned from researching family histories.
The opening weekend of the exhibit, July 24-25, features a buffalo soldiers encampment on the institute's Back 40 outdoor learning area. It is an opportunity for visitors to interact with more than 40 costumed Texas frontier characters including buffalo soldiers, pioneer families, merchants and other denizens of early Texas. These first-person interpreters will offer a true-to-life look at the frontier including daily chores, attending school, tending live animals and life in a military regiment.
The buffalo soldiers encampment is included with regular admission. "Buffalo Soldiers: Discovering Heritage on the Texas Frontier" will be on display through Jan. 3, 2011.
The Institute of Texan Cultures is on the UTSA HemisFair Park Campus, 801 E. Durango Blvd., a short distance from the Alamo and the River Walk. Regular hours are 9 a.m.-5 p.m., Monday-Saturday; noon-5 p.m., Sunday. Admission is $8 for adults (ages 12-64); $7 for seniors (ages 65+); $6 for children (ages 3-11); free with membership, UTSA or Alamo Colleges identification. For more information, call 210-458-2300 or visit TexanCultures.com.
The Institute of Texan Cultures, through its research, collections, exhibits and programs, serves as the forum for the understanding and appreciation of Texas and Texans. The institute strives to become the nation's premier institution of contemporary cultural and ethnic studies focusing on Texans and the diverse cultural communities that make Texas what it is. An agency of the UTSA Office of the Vice President for Community Services and a Smithsonian affiliate, the 182,000-square-foot complex, featuring 45,000 square feet of exhibit space and five recreation Texas Frontier period structures, is on the UTSA HemisFair Park Campus in downtown San Antonio.