UTSA chemist Doug Frantz wins Voelcker Fund 2010 Young Investigator Award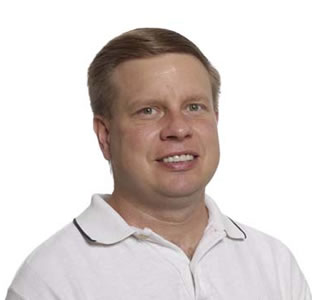 Share this Story
(July 1, 2010) Doug E. Frantz, UTSA assistant professor of chemistry in the College of Sciences, has received the Max and Minnie Tomerlin Voelcker Fund 2010 Young Investigator Award, which includes $450,000 over the next three years to propel Frantz's medicinal chemistry research program. This is the first time a UTSA researcher will be honored with the award, which recognizes and supports promising medical research that has the potential to have a significant impact on patient care.
"By supporting research in its own backyard, the Voelcker Fund is providing a great opportunity to San Antonio medical researchers and particularly UTSA," said UTSA President Ricardo Romo. "With the outstanding support and leadership of community partners like the Voelcker Fund, UTSA will achieve premier research university status at a much faster pace."
In 2009, the Voelcker Fund began to present the award annually to assistant professors making significant research contributions that advance clinical treatment in five key areas. The target areas include heart disease, cancer, arthritis, muscular dystrophy and maculative degeneration of the retina.
"The purpose of the Voelcker Fund is to elevate research to cure targeted diseases. We are impressed with the level and focus of the scientific research being conducted by Dr. Frantz," said Voelcker Fund trustee Banks M. Smith.
Over the long term, Frantz and collaborators Jay Schneider and Jenny Hsieh of the University of Texas Southwestern Medical Center at Dallas will discover, synthesize and test libraries of small drug-like molecules that target stem cells with the potential to treat heart disease and brain cancer. In the area of heart disease, Frantz is working to identify molecules that will nudge adult stem cells to grow into new heart muscle cells instead of generating scar tissue after a heart attack.
In brain cancer, his research involves the discovery of new molecules that will turn cancerous stem cells into normal benign neurons. Currently, the researchers are targeting two classes of molecules, isoxazoles and pyrazoles, which have demonstrated success in inducing stem cells to become heart cells and neurons and have been published for the scientific community to review.
The research we are conducting in the laboratory is perfectly aligned with the broader issues of treating cardiovascular disease and cancer by combining stem cells and medicinal chemistry, said Frantz. I am extremely grateful to the trustees of the Voelcker Fund for recognizing the potential of this research and generously supporting my laboratory's research program. In addition to advancing our research, the funds support will provide undergraduates and graduate students with the opportunity to gain valuable laboratory experience at the interface of chemistry and biology and contribute to the development of therapeutic solutions for a variety of diseases.
Frantz joined UTSA in 2009 from UT Southwestern Medical Center, where he was an assistant research professor and served as director of the medical center's synthetic chemistry core facility from 2005 to 2009. At the medical center, he focused on the development of new methods in organic synthesis, medicinal chemistry, physical organic chemistry and the synthesis of natural products.
From 2000 to 2005, Frantz worked in industry for pharmaceutical corporation Merck and Co. Inc. initially as a senior research scientist and then as a research fellow in the corporation's Department of Process Research. While at Merck, Frantz managed a group of process chemists in developing pre-clinical and clinical drug candidates for eventual manufacturing and distribution. He also consulted for Reata Pharmaceuticals based in Los Colinas, Texas, and Joyant Pharmaceuticals based in Dallas.