Office of P-20 Initiatives Early College High School program honors graduates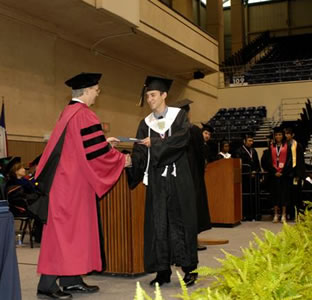 Share this Story
(July 23, 2010)--Last month, the UTSA Office of P-20 Initiatives celebrated the accomplishments of nearly 180 Early College High School (ECHS) program graduating seniors at the Convocation Center on the Main Campus. More than 20 percent of the program graduates will attend UTSA to proceed with their higher education.
The ECHS program is a collaborative effort of UTSA and the East Central, Southside and Southwest independent school districts. The program focuses on creating a learning community within each high school. Participating high school students graduate with an average 24 college credit hours as they also earn their high school diplomas.
The UTSA Office of P-20 Initiatives strives to increase UTSA's partnerships and collaborations with educational institutions, businesses, industries, community-based organizations, and public and private foundations to strengthen the quality of education in San Antonio and South Texas from kindergarten to college.
For more information about ECHS, contact Annalisa Mendiola at 210-458-2769.