UTSA president, provost talk about Tier One on Texas Public Radio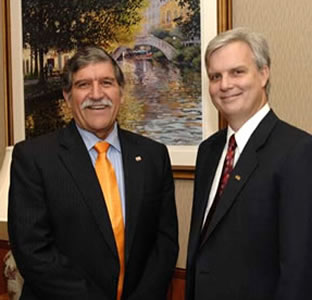 Share this Story
(July 27, 2010)--UTSA President Ricardo Romo and Provost and Vice President for Academic Affairs John Frederick were featured guests on the Texas Public Radio show "The Source" on July 26.
Romo and Frederick spoke with host Terry Gildea about the university's bid to become Texas' next Tier One institution.
Their discussion included UTSA's $50 million partnership with CPS Energy to fund the Texas Sustainable Energy Research Institute, state budget cuts and the advent of Roadrunner football.
>> Listen to the archived show at the Texas Public Radio website.