UTSA honors, architecture students enter Canstruction food bank competition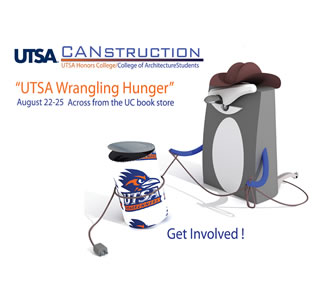 Share this Story
(Aug. 18, 2010)--Six UTSA students need your help in "wrangling hunger."
Harrison Pierce, Samantha Singel, Albert Franco, Johnmichael Storey, Audra Biediger and Stephanie Estrada, all UTSA Honors College and College of Architecture students, are making history and helping UTSA meet the needs of the community through the Canstruction competition, Aug. 29 at North Star Mall. For the first time, UTSA is participating in the national competition, which helps feed the hungry through a unique and amazing design-build concept.
To build the massive display, the UTSA team needed 4,000 cans and money for supplies and participation fees. Generous donations from H-E-B, the UTSA Office of Alumni Programs, the Honors College and St. John's Evangelical Lutheran Church helped tremendously, but the wranglers are $700 short of their goal. That's why they are turning to their fellow Roadrunners.
"The easiest way to help out is by going to the UTSA Alumni Association website and making a donation," said team leader Harrison Pierce, who plans to make this a yearly project for UTSA students. "Donations will be accepted through Aug. 31, so we will greatly appreciate everyone's help."
The design is a cowboy-themed can opener roping a can of food that represents hunger. The cans of garbanzo beans, chili and charro beans were assembled in the garage of Ann Eisenberg, associate dean of the UTSA Honors College. But, the best way to understand what it looks like is to see it in person, said Harrison, from Aug. 22 to Aug. 27 in University Center across from the bookstore on the Main Campus and at North Star Mall from Aug. 29 to Sept. 11.
"UTSA faculty, staff and students can help make this a UTSA community-wide effort," said Eisenberg. "Every $1 donation will make a big difference in fighting hunger."
Canstruction competitions are conducted nationwide with professional teams from the fields of architecture, construction and engineering as well as students designing and building the giant structures using only canned goods. The designs are publicly displayed for two weeks before the canned goods are given to local food banks. After a two-week showing at North Star Mall, the UTSA wranglers will net the San Antonio Food Bank 4,000 cans of food.
"For me, this started as an opportunity to do a creative project instead of writing a research thesis, but it evolved into a project to show how a small number of UTSA students can bring large awareness to hunger," said Harrison.
"Without my teammates, none of this would have been possible. I owe everything to them in helping achieve the goals of this competition," he said, "as well as to Kevin McClellan who helped us throughout the project by giving observations and ideas on both the design and how to fundraise."
McClellan, a lecturer in the UTSA College of Architecture, praised the students' work and added that Canstruction is more than a design competition to help fight hunger. "It asks the students to be part of a larger community actively. By seeing their impact and affecting positive change they are in no small part shaping that community, growing it and, as such, becoming an important part of it," he said.
For more information, contact Ann Eisenberg at 210-458-4106.