UTSA hosts teachers' supplies sale Aug. 8 to benefit scholarship fund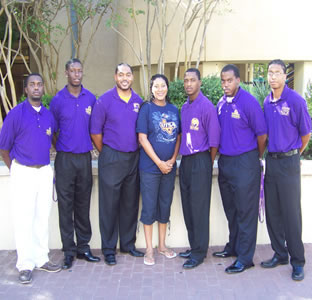 Share this Story
(Aug. 4, 2010)--The Omega Psi Phi fraternity will host a fundraising event, "Teacher Supplies Salvage Sale," from 3 to 5 p.m., Sunday, Aug. 8 in the Business Building University Room (2.06.04) on the UTSA Main Campus. The event is open to the public. Proceeds will benefit a college scholarship for a local high school student who will attend a four-year accredited college.
The student organization will sell new and "gently used" teaching supplies at reduced prices. Items were donated by teachers to help other teachers, particularly new teachers, outfit their classrooms.
"Last year, we helped 140 current and future teachers from the local and surrounding San Antonio area," said Jasmine Cary, faculty advisor for Omega Psi Phi fraternity. "We were able to have so many participants due to the generosity of our donors, and our pricing on teaching items is lower than what you would find at a retail store."
Items for sale will include pocket charts, big books, office supplies, toys, bulletin board supplies, posters, classroom management supplies, classroom decor, reproducible activity books, teacher gifts and containers. As an incentive to attend, participants also can choose five free used children's books of their choice and shop in the free teaching supplies section.
Organizers include Derek Waters, Dapo Olofinjana, Jamal Hasty (Graduate Advisor), Jasmine Hasty Cary (Faculty Advisor), Curtis Wilkins Jr., Marcus Wilson, and Dyron Christopher.
Before the event, aspiring teachers can attend the UTSA University Career Center workshop "Getting a Jump Start in Finding a Teaching Position: Tips and Other Must Do's" at 1 p.m. in Business Building Room 2.01.14 on the Main Campus.
Admission is $5; cash only will be accepted for admission and purchases. Participants should bring their own shopping bags. Parking will be available in the garage near lot 2 at Margaret Tobin Avenue on the UTSA Main Campus.
For more information, e-mail Jasmine Cary.