UTSA Rec Center offers fitness activities for students, faculty and staff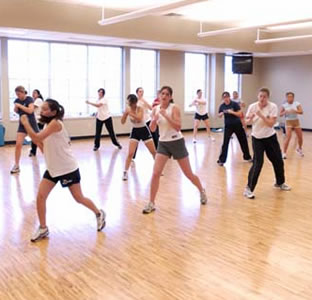 Share this Story
(Sept. 1, 2010)--As one of the best university recreation facilities in the nation, there are fitness activities for the entire UTSA community at the UTSA Recreation Center -- or Campus Rec. Most activities are included with student fees, and faculty and staff members can be members for a reasonable fee. The faculty-staff and spouse-partner membership is only $30 per month.
Campus Rec activities include a 54-foot indoor rock climbing wall, a lazy river, racquetball, cooking demonstrations, video games and camping. The facility at the Main Campus has a wide range of services and activities for which there is little or no out-of-pocket cost for students. Additionally, UTSA community members can utilize the weight and cardio fitness center in Durango Building Room 3.202 on the Downtown Campus.
The Campus Recreation Center at the Main Campus houses more than 24,000 square feet of weight room and cardio space filled with fitness equipment worth more than $800,000. The equipment includes treadmills, elliptical machines, resistance machines, stationary bicycles and free weights, to name a few. The building also has four racquetball courts, a smoothie bar and a demonstration kitchen, along with an outdoor pool and lazy river perfect for relaxing on warm days.
But there is more to Campus Rec than just a gym. Many of the rooms can be converted from exercise spaces to meeting spaces for small or large groups. Additionally, students can check out a wide variety of equipment from camping gear to kayaks for no additional fee or relax while receiving a therapeutic massage for a very reasonable fee. In addition to exercising and facilitating a variety of on- and off-campus outdoor activities, Campus Rec presents cooking classes in a fully furnished demonstration kitchen.
UTSA Campus Recreation is dedicated to enhancing the quality of life and educational experience for the diverse university community and helping students and faculty develop healthful habits that last a lifetime.
For more information, contact Campus Recreation at 210-458-7575 at the Main Campus or 210-458-2816 at the Downtown Campus.