San Antonio native Damon Cardenas receives Beldon doctoral scholarship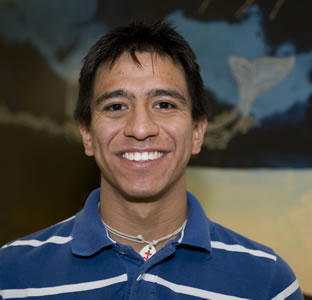 Share this Story
(Aug. 11, 2010)--Damon Cardenas, a San Antonio native who entered the Ph.D. program in biomedical engineering this fall, is the recipient of the 2010-2011 Louise and Michael Beldon Doctoral Scholarship. UTSA offers the Ph.D. program in biomedical engineering jointly with the University of Texas Health Science Center at San Antonio. For donors Louise Beldon and Mike Beldon, Cardenas' qualifications and his appreciation for the excellent faculty and laboratory facilities at both institutions strengthens their commitment to support UTSA's vision to become a premier research university.
"We have been so impressed with the previous three Beldon scholars and the successful progress they are making toward obtaining their doctorate degrees that we decided it was a sound philanthropic investment to make a multi-year commitment to sustain this annual scholarship award," said Mike Beldon.
Cardenas discovered a strong interest in the neurological basis for human paralysis while obtaining his electrical engineering degree from a local private university. "One of the most prominent issues on my mind is the occurrence of paralysis," he said. "I cannot imagine what it would be like to live life unable to move my arms or legs, or worse, nothing below my neck."
According to Cardenas, pursuing his graduate work at UTSA is appealing because of the university's commitment to research excellence.
"Through engineering, there is the potential to change the world with the development of new technology and physical techniques," he said. "The changes you make are typically specific to the field of engineering, and I would like to focus my research in the field of micro-imaging. The scholarship allows me the freedom to concentrate on my work and gives me a significant boost in my motivation and inspiration to become a successful researcher."
Attracted by the scholarship support he was awarded, Cardenas also had personal reasons for continuing his graduate studies at UTSA.
"San Antonio has always been my home, and despite anticipating future travels through the course of my professional and educational careers, it will always be my home," he said. "I come from a family who claim UTSA as their alma mater, including my parents, and I would love to contribute to our family's Roadrunner legacy of achievements."