New dining options: JPL salad-breakfast bar, plus two green reusable containers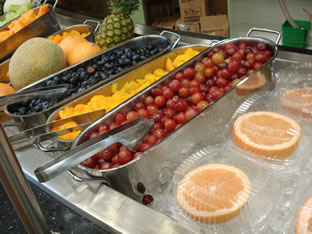 Share this Story
(Sept. 23, 2010)--The fall semester is now in progress, and UTSA Dining Services is bringing many changes to stimulate your taste buds. There are many dining options available on campus, and with the new additions, the only problem will be deciding which one to try first.
New at the John Peace Library food court
An expanded salad bar opened last week with build-your-own fruit parfait and fresh fruit cups, a cereal bar including granola, fruit and raisins, and more salad toppings. And, you can still enjoy the traditional salad bar items such as whole fruit and hot soup.
Smoothie King arrived at JPL for another quick food option on the way to class.
New furniture will be coming to the north side of the food court, along with UTSA's second Starbucks set to open in November. To be located at the south end of the food court with a community feel and a more relaxing ambiance, the full-service Starbucks will have grab-and-go options as well.
New in the Humanities and Social Sciences Building
If you're in a rush to get to class, then stop by the P.O.D. (Provisions on Demand) Express, where you can find grab-and-go meals, snacks, drinks and even medicines, if you're feeling under the weather.
New at the University Center
Dining in at Chili's Too is a great way to enjoy a meal, but if you're short on time, now you can get food to go.
Call 210-458-TOGO and Chili's will have your food ready for you.
New at the Roadrunner Cafe
When you walk into Real Food on Campus (RFoC) at Roadrunner Cafe, it's all right if you do a double take. There is a new bakery in the front and the Mongolian grill is back -- just choose your protein, veggies and sauce, and it is cooked for you. The all-you-care-to-eat facility is enjoyed by students living on campus, along with commuters, faculty, staff and visitors.
The cafe is complete with the saute, pasta, grill and fresh produce stations, plus brick-oven pizza, deli sandwiches, all-day breakfast, cereal, dessert and more.
Eat and drink green at UTSA
The Eco-To-Go container is available at the Roadrunner Cafe and C3 Store in the University Center. Pay a refundable $7 deposit for the special to-go container, provide your name and e-mail, and you're good to go with no wasteful cardboard. Bring your Eco-To-Go container with you to the Roadrunner Cafe, and you'll have a meal-to-go.
Another green option is a Green Thread reusable cup for $4.99 plus tax, which gets you fountain drink refills at all UTSA dining venues for 99 cents. Purchase a cup at Chili's Too, P.O.D. Express, C3 Store and the Downtown Campus Frio Street Building food court.
Faculty and staff members who purchase a $250 meal plan receive a $30 bonus, free Eco-To-Go container and free Green Thread reusable cup. With the $150 faculty and staff meal plan, receive a $12 bonus and free Green Thread reusable cup. Read more about UTSA meal plans.
Starbucks and Chili's gift cards
Purchase or add money to a Starbucks gift card at UTSA's Starbucks.
UTSA's Chili's Too and Starbucks both accept gift cards for each respective restaurant.
Students, faculty and staff can save with Rowdy Dollars
UTSA students, faculty and staff can take advantage of the UTSACard Rowdy Dollars program. Operating like a prepaid debit card; Rowdy Dollars can be used at any campus dining service or UTSA Bookstores.
Where to add Rowdy Dollars to your UTSACard:
UTSA Fiscal Services (Main Campus: John Peace Library Room 1.03.06, Downtown Campus: Frio Street Building Room 1.508
ASAP online information system (credit card or e-check)
Cash value stations
Cash value station locations are:
Computer Lab, Business Building Room 2.01.06, Main Campus
Computer Lab, Multidisciplinary Studies Building Room 1.03.06, Main Campus
John Peace Library second floor, Main Campus
Main Building first floor main corridor near copiers, Main Campus
Humanities and Social Sciences Building second level galleria, Main Campus
Chaparral Village Building 14, Main Campus
Chaparral Village Building 16, Main Campus
Computer Lab, Frio Street Building Room, Downtown Campus
Library, Buena Vista Street Building second floor, Downtown Campus
------------------------------
Remember the familiar UTSA dining options at the Main Campus:
JPL food court: Chick-fil-A, The SushiC Company, Montague's Deli, Bene Pizza and Pasta, and C3 convenience store
University Center: Burger King, Taco Cabana, Panda Express, Starbucks, Subway and C3 convenience store
Business Building: Extreme Pita
Biotechnology, Sciences and Engineering Building: Einstein Bros. Bagels
Recreation Center: Smoothie King
And the Frio Street Building food court on the Downtown Campus features:
Soup and salad bar, Subway, Bene Pizza and Pasta, and Grille Works
------------------------------
UTSA Business Auxiliary Services and ARAMARK are dedicated to serving the UTSA community. For dining hours, visit the Dining with UTSA website.
UTSA Business Auxiliary Services manages parking, transportation, dining and catering, bookstore, vending, copier and UTSACard services with the goal of providing the highest level of quality, value, innovation and excellence for UTSA students, faculty, staff and visitors.