Classic rock band Kansas to perform with UTSA Orchestra Sept. 17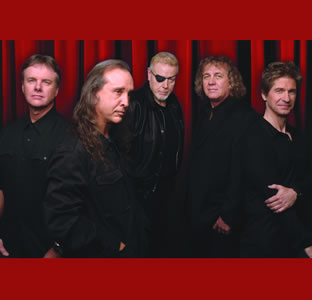 Share this Story
(Sept. 14, 2010)--The UTSA community can get an inside look at the music world when Phil Ehart, drummer for the '70s rock band Kansas, speaks to music marketing students at 3:15 p.m., Thursday, Sept. 16 in the Arts Building Choral Hall (2.03.20) on the UTSA Main Campus. The event is free and open to the public.
The visit is in conjunction with the band's performance with the UTSA Orchestra at 8 p.m., Friday, Sept. 17 at Trinity University's Laurie Auditorium. The concert is a fundraiser for programs in the UTSA Department of Music. Additionally, the presenting sponsor, D'Addario & Company Inc., will make a donation through their foundation for UTSA music scholarships.
The band came up with the idea for university scholarship fundraisers after being inspired by their successful 2009 StarCity Recording DVD/CD release, "There's Know Place Like Home." The DVD features a special night of music with the classic rock band and the Washburn University Orchestra in Topeka, Kan.
The Kansas Collegiate Symphony Tour is one of 10 fundraiser performances with university orchestras scheduled around the country to commemorate the band's 35th anniversary. Read more on UTSA Today.
------------------------------
Discounted tickets for "Kansas Symphony Rocks Tour with the UTSA Orchestra"
Discounted tickets for the UTSA community are $24 and $29 plus service fees. (General admission tickets are $38 and $48 plus service fees.)
>> Discounted tickets are available at the Laurie Auditorium box office by showing your UTSACard or at this special Ticketmaster link. (You must enter promotional code "UTSA" in the box provided only at this link.)