UTSACard gives students, faculty, staff access to range of services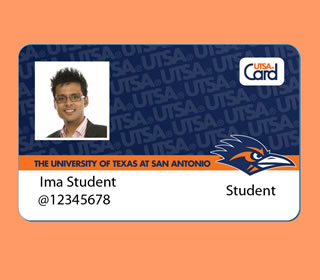 Share this Story
(Sept. 1, 2010)--The ID card carried by students, faculty and staff -- the UTSACard -- provides a range of benefits and services. The card, which features the latest iteration of UTSA mascot Rowdy Roadrunner can be used to take advantage of benefits across campus and in the community.
The UTSACard can be used at a variety of locations across the UTSA campuses and can earn students discounts when presented at local businesses such as movie theaters and nightclubs. Faculty and staff can use the UTSACard to take advantage of the Employee Discount Program. With a minimum discount of 10 percent, categories include restaurants, automotive, fashion, health and beauty, sports and entertainment, home and garden, and more.
The UTSACard works as a free ticket for students to all UTSA home NCAA sporting events such as men's and women's basketball, tennis, baseball, softball, and -- coming fall 2011-- football.
Not interested in sports? How about traveling back in time? The UTSACard grants students, faculty and staff free admission to the Institute of Texan Cultures in downtown San Antonio, where patrons can explore Texas culture and history through a variety of ever changing displays, events and programs.
UTSA students, faculty and staff also receive free admission to the San Antonio Museum of Art (SAMA) simply by presenting their UTSACard. The special benefit is a result of the university's corporate benefactor membership to SAMA.
In addition to these and occasional on-campus arts performances, the UTSACard can also be used by students to gain entry to the Recreation Center or check out games and related equipment in The Roost in the new section of the University Center. Additionally, the UTSACard is required for students to receive treatment at Student Health Services or to borrow materials from the UTSA Libraries.
UTSACard holders also can load Rowdy Dollars onto their UTSACard account to be used at campus dining facilities, vending machines, copy machines and the UTSA bookstores, to name a few. Funds can be loaded using financial aid funds, cash, check or credit card through Fiscal Services, online through ASAP or at one of several kiosks located throughout campus.
Students and faculty member can replace an old UTSACard at no charge by presenting their old card or be subject to a $10 replacement fee for a lost card. New or transfer students getting a UTSACard for the first time and those replacing a lost UTSACard will need a valid, government-issued ID card to receive their new UTSACard.
The UTSA Card Office is centrally located in the new Business Auxiliary Services facility across from the University Center in Multidisciplinary Studies Building Room 1.01.52 at the Main Campus. The new office offers one stop for anyone needing a parking permit or new ID, or if there are questions about a parking ticket. At the Downtown Campus, go to Frio Street Building Room 1.506. Main Campus hours are 8 a.m.-5 p.m., Monday-Friday. Downtown Campus hours are 8:30 a.m.-1 p.m. and 2-5:30 p.m., Tuesday and Thursday.
For more information, visit the Business Auxiliary Services website, e-mail utsacard@utsa.edu or call 210-458-4639.