Learn about volunteer opportunities at Sept. 8, Sept. 15 information fairs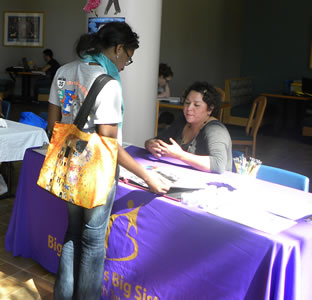 Share this Story
(Sept. 7, 2010)--The UTSA Inclusion and Community Engagement Center will host Volunteer Opportunity Fairs Sept. 8 at the Downtown Campus and Sept. 15 at the Main Campus. The fairs provide information on ways to get involved with community service and volunteering on and off campus.
Downtown Campus: 11 a.m.-1 p.m., Wednesday, Sept. 8, Frio Street Building commons
Main Campus: 9:30 a.m.-1 p.m., Wednesday, Sept. 15, University Center first floor corridor
Opportunities are available to work with children, the elderly, the environment, the homeless and on many social issues.
At the event, there will be representatives from dozens of agencies and organizations including Big Brothers Big Sisters, Camp CAMP, San Antonio Youth Centers and UTSA VOICES (Volunteer Organization Involving Community Education and Service). Whether you are looking for a one-time event, an ongoing opportunity or projects for large groups, there will be something for you at the Volunteer Opportunities Fairs.
For more information, contact Jennifer Rames at 210-458-4770, or stop by the Inclusion and Community Engagement Center in University Center Room 2.01.04 on the Main Campus.