Who gets a pie in the face today from Be A Responsible Roadrunner students?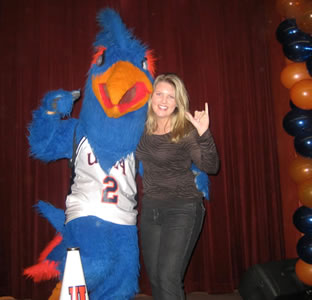 Share this Story
(Oct. 21, 2010)--Who will get a pie in the face from a Be A Responsible Roadrunner member? As a fundraiser for BARR, a UTSA student alcohol peer education group, last-chance monetary votes will be accepted from 11 to 11:45 a.m., Thursday, Oct. 21 at the University Center paseo as part of the "Thirsty Thursday" event.
>> Place donations in the buckets to vote for the one UTSA staff member or administrator who will receive a pie in the face shortly after noon at the paseo.
The competition has been tight between UTSA Head Football Coach Larry Coker and Head Men's Basketball Coach Brooks Thompson. Following up closely are Barry McKinney, director of student activities, and Kelsey Bratcher, assistant director of student activities.
"The students are having fun with this one and the BARR consultants appreciate you taking a risk of getting a pie in the face," said Bratcher, who is UTSA assistant director of student activities for risk education, alcohol and drug programs. "The votes have gone back and forth on who is in the lead, and right now the competition is very intense. Oh, I am deep in the running, too."
Donations will go toward training and education of BARR student consultants and educational programming at UTSA to reduce underage and high-risk drinking.
Read more at the Be A Responsible Roadrunner website.