UTSA hosts 'Breakthrough!' exhibit marking 20th anniversary of Germany reunification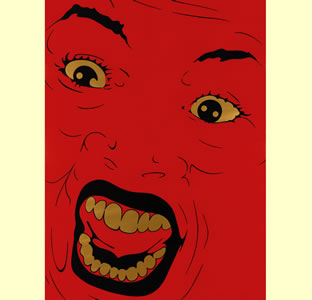 Share this Story
(Oct. 26, 2010)--The UTSA Department of Art and Art History will host "Breakthrough! Twenty Years After German Unification -- Critical Perspectives of Berlin Artists," an exhibit of paintings, photographs and sculptures by dissident artists from the former East Germany. Free and open to the public, the exhibit runs Oct. 28-Nov. 17 in the UTSA Arts Building gallery on the Main Campus.
>> An opening reception is 6-9 p.m., Thursday, Oct. 28. A presentation from each featured artist will begin at 7 p.m. Additionally, there will be a panel discussion, "The Berlin Wall and the U.S.-Mexico Border," at 6:30 p.m., Wednesday, Oct. 27 at the Blue Star Contemporary Art Center, 116 Blue Star.
Touring in only five U.S. cities, the exhibit features the work of 10 visual artists from the former East Germany who endured imprisonment, harassment and exile under the Communist regime before the 1989 fall of the Berlin Wall and the resultant reunification of Germany one year later.
Angelika Jansen, representative of the San Antonio Dresden Alliance and a member of the UTSA College of Liberal and Fine Arts Advisory Board, fled East Germany in 1964 when she was 20 years old and was instrumental in bringing the exhibit to San Antonio.
"All of these artists suffered for their work and fought for the right to have freedom and artistic expression," said Jansen. "We hope San Antonians come out to meet them, hear their stories and view their work."
Participating artists include photographers Gerald Hahn and Harald Hauswald; painters Peter Herrmann, Thomas Klingenstein, Wolfgang Petrick, Frank Rodel, Inge Schmidt, Reinhard Stangl and Robert Weber; and sculptor Hans Scheib.
The exhibition is presented by Jeff Thinnes, a noted expert in German-American relations, who founded the Breakthrough Art Organization in 2009. The Washington, D.C., nonprofit foundation champions artists who use art as a means to overcome political, social and personal challenges.
"By bringing this program to the U.S to mark the 20th anniversary of a reunited Germany, 'Breakthrough!' aims to remind American audiences of the basic freedoms enshrined in our First Amendment and inspire them to stand against threats to those freedoms," said Thinnes.
The UTSA Art Gallery presents a mix of professionally curated, juried, and student and faculty exhibitions with an emphasis on larger and more complex projects. The UTSA Satellite Space in the Blue Star Arts Complex in downtown San Antonio divides programming between monthly curated exhibitions and presentations organized by UTSA graduate students in studio art and art history.
Gallery hours are 10 a.m.-4 p.m., Monday-Friday, and 1-4 p.m., Saturday and Sunday, and by appointment. For more information, contact Laura Crist at 210-458-4391.