UTSA debate team is off to strong start with fourth-place national rank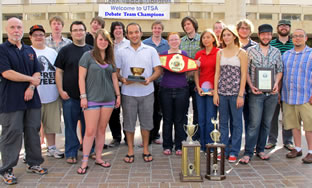 Share this Story
(Oct. 14, 2010)--After three tournaments in the first month of the fall semester, UTSA debaters are already ranked fourth in the nation. Chris Spurlock and his partner Scott Koslow won 10th and ninth speaker awards at Gonzaga University. A third UTSA debater, Andy Montee, won the sixth-place speaker award. Both teams advanced to elimination rounds and lost, placing them fifth in the tournament.
Spurlock, Koslow, Montee and Derek Liles had no rest before debating the next weekend at Georgia State University in Atlanta. Neither team advanced to elimination rounds, however, they garnered impressive wins against teams from Emory, Vanderbilt, Wake Forest and Michigan State.
A much larger crew of debaters, Tia Robertson, Michael Tahmoressi, Michael Ely, Michael Stroud, Tyler Colwell, Jordan Nerison, Emil Calhoun, Brianna Roberts, Matt Colmenero, Jessica Mendez and brothers Andy Montee and Austin Montee, debated at Wichita State University.
Ely, Stroud, the Montees, Colwell and his partner, freshman Jordan Nerison, in her first college tournament, advanced to elimination rounds. Montee and Montee made it to finals where they lost to a University of Oklahoma team, finishing in second place.
Thus far in the 2010-2011 season, UTSA debaters have defeated teams from Whitman College, Arizona State, Oregon, UT Austin, Wyoming, George Washington, Vanderbilt, Wake Forest, Georgia, Michigan State, Emory, North Texas, Missouri State, Wichita State, Kansas, Missouri - Kansas City, Emporia and Oklahoma.
Currently, UTSA leads a long and impressive list of more than 250 schools fielding debate teams: Harvard (17th), UT Austin (16th) and California - Berkeley (14th). The Roadrunners will debate next in a large nationally prominent field of competitors at Northwestern University.