UTSA is early-voting site for joint general, special and bond elections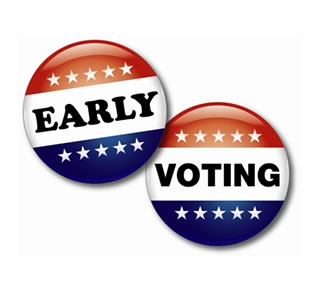 Share this Story
(Oct. 15, 2010)--Once again, the UTSA Main Campus has been designated one of 41 Bexar County early-voting sites for the Nov. 2 joint general, special and bond elections. Early voting runs Monday, Oct. 18 through Friday, Oct. 29 in the lobby of the University Center ballroom. Any registered Bexar County voter can use the UTSA site.
Over the years, UTSA Student Government Association (SGA) leaders consistently have sought a UTSA voting site because of student requests. SGA and UTSA Alumni Association representatives say that an on-campus, early-voting site encourages students to do their civic duty by voting and getting involved in the political process.
Since early voting sites have been designated at UTSA, nearly 8,500 ballots have been cast on campus, making it one of the busiest polling locations in Bexar County. This semester, SGA and several registered student organizations (RSOs) helped register more than 1,600 students to be eligible to vote in the Nov. 2 elections.
On Monday, Oct. 18, the first day of early voting, SGA will offer free pizza at the University Center paseo to increase awareness and remind students they can cast ballots at the UTSA site. Last week, SGA and RSO members welcomed to the Main Campus more than 40 candidates participating in the Nov. 2 elections.
UTSA officials also are encouraging faculty and staff and others in the surrounding area employed at Valero, NuStar and Security Services Federal Credit Union to take advantage of the convenient voting location.
When UTSA employees cannot vote before or after working hours, supervisors may grant employees a reasonable period of time off for voting during business hours. Employees must be registered voters to qualify for the time off; time off for voting must be requested in advance and approved by the supervisor. No reduction in vacation allowance or salary will be made for the time taken to vote, as long as supervisory approval is obtained.
>> For more information, visit the Bexar County Elections website.
>> View a sample ballot for the Nov. 2 Bexar County elections.
----------------------------
Bexar County early voting
Monday, Oct. 18-Friday, Oct. 22, 8 a.m.-6 p.m.
Saturday, Oct. 23, 8 a.m.-8 p.m.
Sunday, Oct. 24, noon-6 p.m.
Monday, Oct. 25-Friday, Oct. 29, 8 a.m.-8 p.m.