UTSA volunteers gives back to community during United Way Days of Caring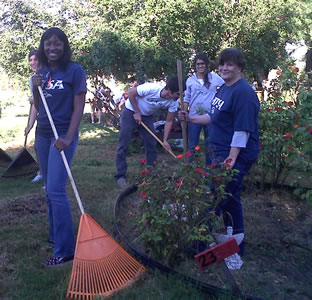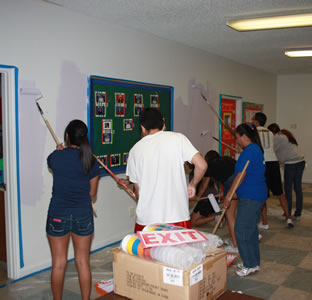 Share this Story
(Oct. 27, 2010)--UTSA Learning Communities hosted this month the second annual "LC Gives Back" project with 42 students volunteering with Green Spaces Alliance at the Gardens of St. Therese. Students weeded, raked, cleared flower beds, pruned plants, tilled dirt, laid mulch and helped pave the garden paths. The project was an extension of the Summer Common Reading Experience and assisted students in learning more about community gardening.
PACE (Personal, Academic and Career Exploration) is a first-year retention program housed at the UTSA Tomas Rivera Center for Student Success. One of the program's goals is to help students connect with their academic advisers and peers. The PACE advising team advocates for volunteering in the community with their students as a great way to foster these connections and to enhance the students' sense of responsibility to the community.
On Oct. 9, the PACE advising team and approximately 70 PACE students volunteered at Emerald Valley Head Start as part of the United Way Days of Caring. Students enjoyed painting classrooms and refurbishing a playground, while spending time with each other, their academic advisers and Freshman Seminar instructors.
The student organization VOICES (Volunteer Organization Involving Community Education and Service) participated in two United Way Days of Caring projects. A group of 20 students spent the morning building outdoor pathways at a Head Start center for the Family Service Association. A second group of 20 served at the San Antonio Food Bank, sorting and packing donations to be distributed to families in the region. VOICES members also volunteered for Archaeology Day at Mission San Jose.
To find out how you or your organization can get involved in service to the community, contact the UTSA Inclusion and Community Engagement Center engaged@utsa.edu at 210-458-4770.
>> Learn about volunteer opportunities at the Inclusion and Community Engagement Center website.