Win free UTSA license plates: Register before Nov. 5!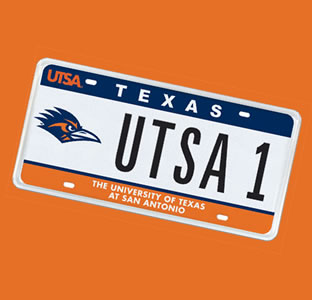 Share this Story
(Oct. 26, 2010)--UTSA friends and families now can register for a chance to win a new UTSA specialty license plate. Ten lucky winners will be selected randomly on Nov. 8.
Participants can register at the UTSA My Plates website. The contest ends Nov. 5. Each winner will receive a one-year license plate from My Plates valued at $55 each. All proceeds received by UTSA will benefit scholarships.
My Plates designs and markets specialty license plates as a vendor for the Texas Department of Motor Vehicles. My Plates' goal is to create a long-term, mutually beneficial relationship to maximize revenues for the state through the sale of specialty plates. My Plates is dedicated to providing Texans with greater choices in specialty plate designs, a unique way to add personality to your vehicle, and unmatched customer service.
Texas is the first state to hire a private vendor to create, market and sell new license plate designs as a way to raise money for the state. The program guarantees millions of dollars for the state and offers Texans a fun choice in customizing their cars. My Plates is a contracted vendor with the Texas Department of Motor Vehicles. Since sales began Nov. 19, 2009, Texans have bought more than 22,000 My Plates, putting $1.7 million in the state general revenue fund.
For more information, contact My Plates by e-mailing customerservice@myplates.com or calling 888-769-7528.