UTSA students: Apply by Oct. 15 for UTSA Legislative Scholars program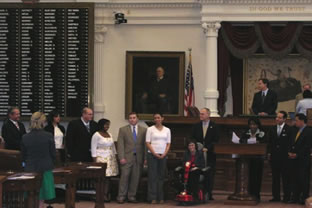 Share this Story
(Oct. 8, 2010)--Applications are being accepted through Friday, Oct. 15 for the UTSA Legislative Scholars program. As "McClendon Scholars," UTSA students will have the opportunity to serve as interns in the Texas Legislature with a stipend of $10,000.
Created in August 2004, the UTSA Legislative Scholars program is a collaborative initiative between UTSA and state Rep. Ruth Jones McClendon. Coordinated by the UTSA Institute of Law and Public Affairs, the program provides undergraduate and graduate students the opportunity to serve as legislative assistants in the Texas House of Representatives during regular legislative sessions in odd-numbered years. Students are assigned to legislative offices where they learn the legislative process and perform important duties with bills, constituents and committees.
Each legislative scholar, popularly known as a McClendon Scholar, will receive a stipend of $10,000 paid across five months during the 2011 Texas Legislative Session. Scholars are responsible for their own housing, transportation and other expenses during their stay in Austin.
Interns must be enrolled in a degree-granting program at UTSA and receive academic credit for their internship. Interns may earn 6 hours of internship credit, 6 hours of independent study credit or other appropriate arrangements during the internship period. Interns are responsible for ensuring they are properly enrolled in the appropriate internship and independent study courses for the spring 2011 semester at UTSA.
Applications for the UTSA McClendon Scholars program for the spring 2011 legislative session must be postmarked or delivered in person by Friday, Oct. 15, 2010, to the UTSA Institute of Law and Public Affairs, 501 W. Durango Blvd., Buena Vista Street Building Room 4.356, San Antonio, Texas, 78207.
Completed applications must be accompanied by a writing sample (essay, term paper, or detailed letter of introduction) and two letters of recommendation, one of which should be from a professor familiar with the student's academic ability.
For more information, contact Richard Gambitta or Ana Alvarez at 210-458-2990.