UTSA Police Department awarded international accreditation for professional standards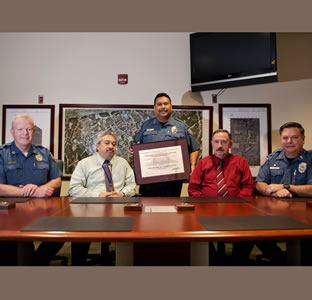 Share this Story
(Oct. 4, 2010)--The UTSA Police Department has received accreditation from the International Association of Campus Law Enforcement Administrators (IACLEA). A rare achievement, UTSA now has dual professional accreditation. In 2008, the police department received accreditation from the Commission on Accreditation for Law Enforcement Agencies (CALEA).
"We are very proud of our police department and their continuing display of professionalism and excellence," said Kerry Kennedy, UTSA vice president for business affairs. "Of the 14 UT System police departments, only three are dually accredited by IACLEA and CALEA -- UTSA, UT Austin and the UT Health Science Center at Houston."
"Please join me in congratulating Police Chief Steve Barrera and the men and women of the UTSA Police Department for achieving IACLEA accreditation," said Mike Tacker, UT System interim police chief. "This accreditation recognizes the highest professional standards for campus law enforcement and protective services in fulfilling our mission to protect students, faculty, staff and visitors to UT System institutions."
IACLEA standards include issues that relate specifically to college campuses such as maintenance and operation of an emergency notification system. The standards set by IACLEA promote professionalism in performing the duties of a police officer and enhance the overall safety of students, faculty, staff and visitors.
The CALEA award is a prized recognition of public safety professional excellence. Many CALEA standards are geared toward community policing, which aid in better relationships between police and the community. CALEA standards pertain to all police organizations including municipal, county, state and university departments. Issues addressed include arrest, search-and-seizure and pursuit procedures.
Encompassing police agency best practices, IACLEA and CALEA accreditation benefits include:
Professional benchmarks for measuring polices and practices
Demonstrated high quality of services
Documented procedures that give clear guidance to staff
Enhanced recruitment and retention of qualified staff
Staff members trained and functioning according to established policies and procedures
Boost to institutional pride and employee morale
Periodic professional review of operations, administration and services