UTSA celebrates service to community at President's Scholarship and Awards Dinner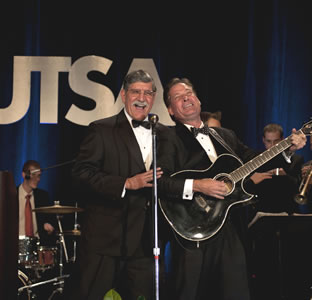 Share this Story
(Oct. 15, 2010)--More than 700 friends of The University of Texas at San Antonio including donors, elected officials, faculty, staff and students attended the annual President's Scholarship and Awards Dinner last night at the Marriott Rivercenter hotel. The black-tie gala, themed "Together We Serve," raised money for student scholarships and included tributes to recipients whose service has greatly enhanced UTSA and San Antonio.
"As we expand our focus on research and work to build a Tier One university for a top-tier city, we will never lose sight of our commitment to serve students and our community," said UTSA President Ricardo Romo. "That is why universities exist."
Former San Antonio Mayor Phil Hardberger received the university's Tom C. Frost Award. The award was created in 2003 to pay tribute to Tom C. Frost, local businessman and special friend and benefactor of UTSA, and to honor annually an outstanding citizen who has provided exceptional leadership to important business and community endeavors.
Hardberger, a civil rights attorney and former chief justice of the Fourth Court of Appeals, served two terms as the leader of San Antonio. In 2005, his leadership abilities were placed in the national spotlight as he led city efforts to help displaced residents of the Gulf Coast during Hurricanes Katrina and Rita. His legacy of service includes the expansion of the River Walk, service to the Peace Corps and Air Force, and the creation of Haven for Hope, a 37-acre campus serving San Antonio's homeless population.
Hardberger increased San Antonio's green space through the acquisition of Voelcker Park, which later was renamed in his honor. He also led San Antonio into the clean-energy sector through the Mission Verde Sustainability plan, carrying and implementing the city's largest bond initiative, $550 million for communitywide projects.
At the gala, UTSA honored Jim Bodenstedt '96 and Cathy Bodenstadt with the President's Award. The honor is given annually to an individual or organization that has forged extensive partnerships with UTSA and has supported its students and faculty in extraordinary ways.
UTSA honored the Bodenstedts for their support of the university's football program. In January 2009, the Bodenstedts announced a $1-million donation to fund football, the largest gift UTSA Athletics ever received. The Bodenstedts own and operate MUY Brands KKC, a 117-unit franchise company employing more than 3,000 people with locations in Texas and Mexico. Today, MUY Brands franchises include Taco Bell, KFC, Pizza Hut, WingStreet, Long John Silver's and A&W Restaurants. Jim Bodenstedt, a 1996 graduate of UTSA's College of Business, recently was named a finalist for the world's most prestigious business award, The Ernst & Young Entrepreneur of the Year.
In addition to their generous support for UTSA, the Bodenstedts support charities and organizations where their restaurants are located including SA YES Foundation, Boys' and Girls' Clubs of America, Wounded Warrior Project, Muscular Dystrophy Association, Leukemia and Lymphoma Society, Operation Hands On, San Antonio Sports Foundation and local food banks.
KENS-TV anchor Deborah Knapp welcomed guests to the 2010 gala, which was co-hosted by Rick Cavender of Cavender Audi and Toyota and Robert Cavender of Cavender Auto Group. Robert Cavender is a member of the UTSA Development Board. Guests were treated to musical performances by UTSA student Rafael Moras and the Alex Sutherlin Project.
Romo also announced a $100,000 gift from General Motors to fund engineering diversity student scholarships.
Perhaps the evening's biggest surprise was a performance by Romo and co-host Rick Cavender. When Cavender broke into a jingle for his automotive group, Romo playfully grimaced. Cavender replied, "What? Do you want to sing a Tier One song?" The pair closed the evening with the traditional Mexican folk song, "El Rey."
The 2010 President's Scholarship and Awards Gala was supported by more than 70 corporate and private sponsors including title sponsors AT&T Inc. and Briscoe Ranch Inc.