Making giving fundamental with SECC: Q&A with Mauli Agrawal and Sue Agrawal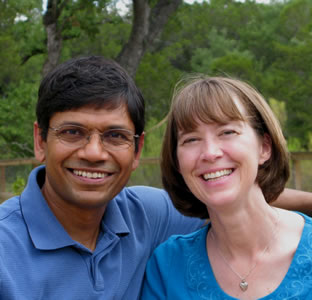 Share this Story
(Oct. 26, 2010)--As longtime supporters of the State Employee Charitable Campaign, Mauli Agrawal, UTSA dean of the College of Engineering, and his wife, Sue Agrawal, have made giving a priority in their lives. Following are their comments about the importance of supporting SECC each year.
How long have you been SECC donors?
We have been contributing for many years but have donated regularly through monthly paycheck deductions since January 2005.
Why did you initially decide to give to the State Employee Charitable Campaign?
There are so many needs, and we believe it is important for everyone to contribute to those less fortunate than us through charitable organizations. Our family makes some contributions outside the SECC including funding scholarships at UTSA, but the SECC makes giving easy, since it is a once-per-year decision, and there is a list of so many worthy nonprofits to contribute to.
Do you designate your SECC gift to a particular charity or group of charities? Which charitable causes are near and dear to your heart?
Last year, the donation was split between five organizations covering the areas of health, children, global relief and the environment. All of these issues are ones we care about, and the charities are all well-rated and don't spend too much on fundraising so that more of the donation can go to the actual program work instead of fundraising or administration.
Why is contributing to the SECC important to you? What made you decide to make a leadership gift last year?
Gifts to charities are a fundamental part of our family's budget. We are blessed to have the ability to give and appreciate the way that the SECC makes the giving process straightforward. We made a leadership-level gift because we feel it is important to lead by example and hopefully others would be encouraged to contribute and help those in need.
-----------------------------
The UTSA 2010 State Employee Charitable Campaign runs through Oct. 31. SECC is the workplace giving campaign for State of Texas employees including state universities and colleges. The University of Texas at San Antonio participates in SECC with the coordination of donations managed by the United Way of San Antonio and Bexar County. Last year, UTSA had 91-percent participation, so let's do it again in 2010! Remember, with SECC everyone matters.
Donate to SECC and receive a ticket to the "UTSA's Got Talent" show at 1 p.m., Friday, Oct. 29 in the Business Building Richard S. Liu Auditorium (2.01.02) on the Main Campus. The performance also will be simulcast at the Downtown Campus Buena Vista Theater. The emcee will be UTSA alumna Monica Taylor from Fox News 29.
>> Learn more at the SECC website.