Leading the way: Deans Dan Gelo and George Perry are guides in giving to SECC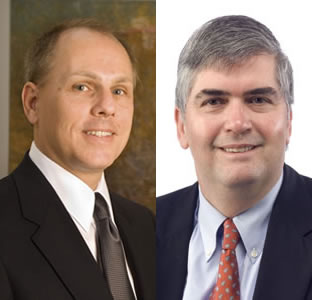 Share this Story
(Oct. 29, 2010)--As deans of the UTSA liberal and fine arts and sciences colleges, Dan Gelo and George Perry command respect from hundreds of faculty members, staff and students. But, their leadership extends beyond academics -- Gelo and Perry guide their colleges in giving to the UTSA State Employee Charitable Campaign.
Gelo finds satisfaction in donating more than money. For the last eight years, he has found time in his schedule to volunteer for the SECC Presidential Advisory Committee. Not only can he contribute to the campaign in a unique way, but also he gets to work with people he normally wouldn't.
He encourages faculty in COLFA to give because he believes UTSA needs to show that it is a leader in helping others in the community. "We are often the beneficiaries of charitable giving as we pursue our educational mission," Gelo said. "The SECC makes it convenient to give to those efforts that matter most to each one of us."
Because their son was diagnosed with type 1 diabetes when he was four years old, he and his wife give to the Juvenile Diabetes Research Foundation and find it encouraging to know that progress is being made on treatments and a cure.
Like Gelo, Perry believes it is important for faculty to participate in giving through the SECC. "Faculty giving increases the link and reflects UTSA's commitment to the San Antonio community," he said. In the months leading up to the campaign and during the campaign, Perry uses his regular dean's executive council meetings to encourage participation among COS faculty.
In order to make a larger impact, Perry gives toward the cause that he also researches, Alzheimer's disease. By donating through the SECC and sitting on their scientific advisory council, he hopes the Alzheimer's Research and Prevention Foundation will make strides in preventing and combating the devastating disease.
When it comes to giving out of their hearts and participating in the SECC, both Gelo and Perry have learned that the best way to lead is by example.
-----------------------------
>> It's not too late to donate! Visit the UTSA State Employee Charitable Campaign website now.