UTSA State of the University address reports on momentum toward Tier One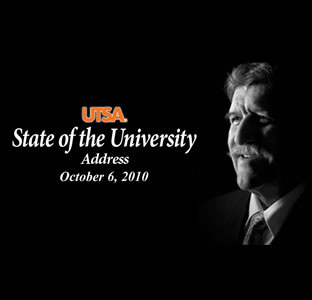 Share this Story
(Oct. 7, 2010)--UTSA President Ricardo Romo addressed students, faculty, staff, elected officials and guests Wednesday afternoon in the University Center Ballroom on the Main Campus for his second annual State of the University address. The 45-minute address detailed UTSA's momentum over the last year toward fulfilling its vision to become a Tier One national research university. Romo was introduced by Bexar County's Rep. Joaquin Castro, a San Antonio native and vice chairman of the House Higher Education Committee.
Romo spoke of his pride for UTSA's teaching faculty and touted their creativity, entrepreneurial spirit and commitment to students in advancing their knowledge of the world and their chosen professional fields.
"This year we were fortunate to have nine UTSA faculty members selected to receive the prestigious UT System Regents' Outstanding Teaching Award," said Romo. "After UT Austin, that is more than any other school in the UT System."
Additionally, Romo pointed out accomplishments within the ranks of research faculty and the university's commitment to continue recruiting the best and brightest and to build the infrastructure needed to do groundbreaking research. He also highlighted the 34-percent increase in total research spending over the previous fiscal year.
"Late last fall, we announced $46 million in research spending, up from the previous year's figure of $34 million," said Romo. "And, what is even more significant is when you look at our progress over five years, we essentially doubled our research expenditures. This is incredible momentum."
New collaborations with multiple private and public partners were addressed, in particular the 10-year, $50 million agreement between the UTSA Texas Sustainable Energy Research Institute and CPS Energy, which will help propel San Antonio as a national leader in green technology research.
"During the last fiscal year, UTSA raised more private dollars than ever before," said Romo, who thanked members of the university's Development Board along with visionary friends and alumni who are giving to help UTSA become a world-class university for world-class students.
"Both the Max and Minnie Tomerlin Voelcker Fund and AT&T supported our faculty research this past year, Valero Energy is helping us recruit graduate students, and one alumni couple, Jim and Cathy Bodenstedt, provided $1 million for Roadrunner football. Now, that is what I call momentum."
The grandest announcement in the speech, however, concerned the posthumous $22 million estate gift from Mary E. McKinney. The largest single private gift in university history will provide financial aid, including full-ride scholarships, to students working toward their degrees.
"Some of the most transformational gifts begin modestly with the simple intent to make a difference," said Romo. "Miss McKinney, an accomplished woman with a master's degree, took some classes here in the '90s, and after seeing how finances often impede students from continuing their education, she set up a modest scholarship in her parents' name. What we were not aware of is that Miss McKinney had plans for it to continue after she had passed."