UTSA student organization fundraiser BestFest is Friday, Nov. 5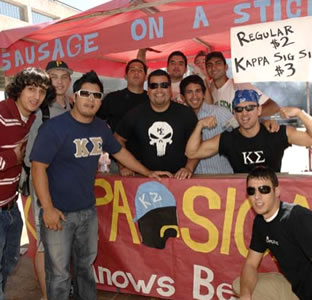 Share this Story
(Nov. 3, 2010)--The UTSA Campus Activities Board will host the annual student organization fall fund-raising festival, BestFest, from 11 a.m. to 3 p.m., Friday, Nov. 5 at Sombrilla Plaza on the Main Campus.
The event will include the first UTSA football pep rally at noon in Sombrilla Plaza.
The UTSA community is invited to the celebration featuring student performances, games and crafts, food, drinks and festivities. BestFest will also feature music by Tumbledown. Tumbledown is influenced by punk rock, pop music and folk musical legends. Lead singer Mike Herrera may be best known as the dynamic bassist and lead singer of the Left Coast three-piece MxPx. The music carries an old-school, country-western swagger reminiscent of Hank Williams, Willie Nelson and Johnny Cash.
"I don't claim that we're a country band, we're just a band with a different sound," Herrera said. "Different than a country band, different than a punk rock band, different than a rockabilly band -- we're somewhere there in between it all.
The event is one of the largest fundraisers for UTSA student organizations. Each organization will have a booth with games or food and drink items -- and this year more than 70 organizations will participate.
For more information, contact the Campus Activities Board at 210-458-4772.