UTSA manufacturing center invites business leaders to Nov. 12 open house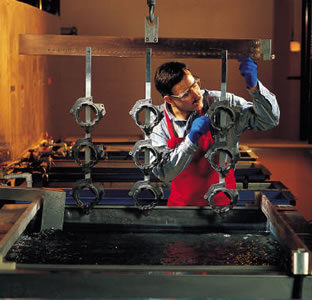 Share this Story
(Nov. 3, 2010)--The UTSA Center for Advanced Manufacturing and Lean Systems (CAMLS) invites the business community to the third annual Meeting and Industry Advisory Council event from 8 a.m. to 2 p.m., Friday, Nov. 12 at the UTSA Main Campus. Registration is required to attend the free event, where visitors can meet the center's faculty, staff and graduate assistants and take a peek at its manufacturing technologies and lean-system methodologies and tools.
CAMLS was founded in 2007 to address the growing needs of industries in San Antonio and South Texas as an interdisciplinary organization to conduct research and development, education and training in lean manufacturing and six-sigma, supply chain and logistics engineering, warehouse systems, automation technologies, and advanced sensors and robotics.
"The Center for Advanced Manufacturing and Lean Systems aims to help businesses become fully competitive manufacturers by integrating technologies and improving processes and operations to strengthen their bottom line," said Frank Chen, CAMLS director and UTSA Luther Brown Distinguished Chair of Manufacturing. "We invite the business community to meet our faculty, staff and students, and talk about their businesses challenges and goals at our Nov. 12 open house. It will be a great opportunity to observe our center in action."
The CAMLS meeting will include a keynote address by Bob McCullough, H-E-B senior vice president of manufacturing ("H-E-B's Lean Journey") and a keynote address by Bruce Miller, president and CEO of Port San Antonio ("Port San Antonio's Growth and Manufacturing Tenants").
>> Although the CAMLS meeting is free and open to the public, reservations are required by Nov. 5. Reserve a seat at camls.utsa.edu/IAC_2010.htm. For more information, contact Nancy Miller at 210-458-6773.