UTSA Historic Preservation Association works on community projects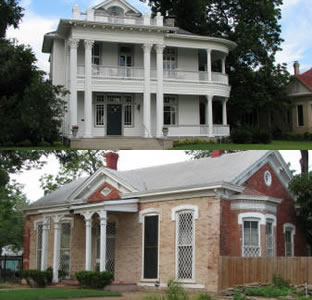 Share this Story
(Nov. 3, 2010)--The Historic Preservation Association (HPA), a UTSA student organization, and the UTSA College of Architecture are working with the City of San Antonio Office of Historic Preservation (OHP) Nov. 6-7 on volunteer projects in a near East Side neighborhood.
The group's most recent achievement is the restoration of the house at 934 Dawson St. Students worked with the OHP to save the 1920s home in the Dignowity Hill neighborhood. HPA members learned through hands-on training how to stabilize a foundation and restore wood windows, among other tasks. HPA members have worked on other projects including Historic Preservation Month last May and OHP restoration workshops and a homeowners fair.
Dignowity Hill is on the city's near East Side, two miles from downtown. Listed on the National Historic Registry of Neighborhoods, it is named for Anthony Michael Dignowity, a Czech-American writer, public official and physician born in Kuttenburg, Bohemia, in 1810.
According to the City of San Antonio Office of Historic Preservation website, Dignowity Hill was San Antonio's first exclusive residential suburb. The area was settled by Dignowity, who built his family home on a hill east of town and called it Harmony House.
During the latter part of the 19th century, Dignowity Hill, as it became known, was home to prominent San Antonio merchants and business owners who constructed large estates. Dignowity Hill was an exclusive and affluent residential area in San Antonio because of its high elevation, proximity to downtown, the size of the lots and lack of city water, which required residents to construct expensive water collecting systems.
------------------------------
The UTSA Historic Preservation Association is an organization created by students seeking the Historic Preservation Certificate offered by the UTSA College of Architecture. The educational organization is dedicated to historic preservation and related areas of study through activities including volunteering, advocacy, community outreach, extracurricular scholarship and interdisciplinary collaboration. The group is centered on creating partnerships of opportunity and understanding at UTSA and in San Antonio.