Groundbreaking for Main Campus six-level East Parking Garage set for spring 2011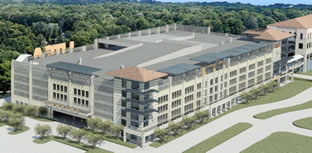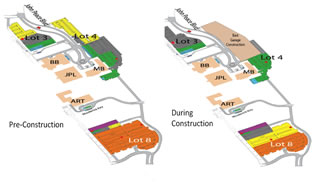 Share this Story
(Nov. 16, 2010)--Providing permit and hourly parking for students, faculty, staff and visitors, the East Parking Garage on the UTSA Main Campus is expected to be open for the fall semester in 2012. It will be constructed on a portion of parking lot 4 east of the Business Building and adjacent to the Main Building.
Changes to current surface parking are necessary to accommodate construction of the garage. As shown below, Faculty/Staff "A" and "B" spaces will be added in lot 8 to accommodate demand. No Faculty/Staff "B" spaces will remain in lots 3 and 4, and many Faculty/Staff "A" spaces also will be relocated from lot 4 to lot 8. The number of Faculty/Staff Reserved spaces in lots 3 and 4 will remain approximately the same.
Access to remaining parking in lot 4 from UTSA Circle in front of the Main Building will remain open during most of the construction period. James Bauerle Road also will be open during construction to allow additional access to parking lot 4 from the south. However, there will be at least two periods during construction when access from UTSA Circle will be closed and the only access to parking in lot 4 will be from James Bauerle Road.
Disabled spaces will be added soon in lot 4 on the south side of the Main Building, and additional disabled spaces will open south of the North Parking Garage on completion of the North Paseo Building in summer 2011.
To mitigate the impact on students who park in Faculty/Staff "B" spaces in the evening, Business Auxiliary Services expects to allow students to park in Faculty/Staff "A" spaces in lots 3 and 4 only during evening hours during the construction period. Overall, there will be about 5 percent (300) fewer student parking spaces on the Main Campus during this time.
"This is an important project that will increase the range of convenient parking options, add a significant number of parking spaces on the Main Campus and contribute to moving UTSA to the next level," said Shelley Deats, assistant director of parking services.
UTSA Business Auxiliary Services plans an extensive awareness campaign that will include FAQs, news releases and other informational items.