UTSA Hillel hosts Chanukah event 'Shining Light Onto the Darkness' Dec. 2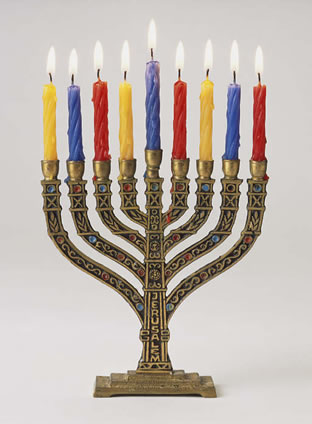 Share this Story
(Nov. 29, 2010)--UTSA Hillel, a Jewish student, staff and faculty organization, will host "Shining Light Onto the Darkness" from 6:30 to 9:30 p.m., Thursday, Dec. 2 in Business Building Room 2.06.04 on the Main Campus. Free and open to the public, there will be delicious Chanukah foods including traditional latkes, a jazz band, Chanukah songs and a light show at this year's event.
"Shining Light Onto the Darkness" will be a celebration of the second of eight nights of Chanukah. This year, Chanukah is Dec. 1 and continues with the lighting of the last candle on the evening of Dec. 8.
"Chanukah is a time of miracles, renewed hope and rejuvenation of all of the potentials that we hold as individuals and as a society," said Rosalind Horowitz, UTSA professor of discourse and literacy studies and Hillel adviser. "The candle lights suggest sparks of new energy are possible and innovative thinking and living. According to Judaism, each of us has the responsibility to add light onto the world. How one accomplishes this varies, given our individuality and unique talents."
On each night of Chanukah, an additional candle is lighted on the menorah to commemorate a miracle, which occurred after the Jewish people proclaimed victory over the Syrian armies in 165 B.C.E.
When Jews (the Maccabbees) rededicated the temple, which had been defiled by the Syrians, they found only one small flask of oil with which to light the menorah, a candelabra. The flask contained enough oil for only one day, yet the oil burned for eight days, which was a miracle.
For more information, call the Hillel office at 210-458-2672.