Institute of Texan Cultures exhibit explores social connections through giant games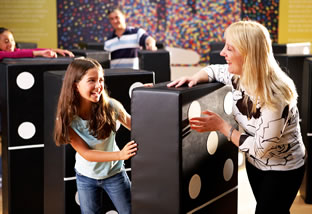 Share this Story
(Nov. 5, 2010)--The UTSA Institute of Texan Cultures is hosting "Play!" -- an innovative new exhibition that challenges visitors to test their group skills by playing giant clubhouse-style games such as foosball and billiards. ITC is one of a select group of hosts in nine North American cities that will feature the exhibit over three years.
The exhibit geared to families, school groups and business professionals lets visitors learn how people connect socially through play. Participants become part of the experience through immersive games including bowling, billiards, dice, backgammon, foosball and dominoes.
The exhibit explores social dynamics such as friendship, collaboration, teamwork and empathy. The central concept is to help school children and their parents, business professionals and teams explore relationships and social engagements in their daily lives.
"The Institute of Texan Cultures is a place to appreciate and understand Texas and Texans -- that means understanding each other," said Lupita Barrera, ITC education director. "Play is a great way to learn and understand empathy, cooperation, compromise and communication."
Components of the exhibit include:
The Will of the Group -- balancing the importance of individual expression with respect for the will of the group as you become the game pieces on a giant foosball table
The Power of Many -- becoming bowling pins that act together as a force against the rolling ball; different outcomes result by including more players
The Collective Experience -- creating a musical composition on a pool table surface with a set of nine giant billiard balls, each creating its own musical tone as it moves
"Participants are invited to see things from different perspectives," said exhibit creator Nacho Rodriguez Bach. "Throughout the experience, one is reminded what it means to be a friend and to recognize the needs of others."
"Play!" is organized and produced by Evergreen Exhibitions of San Antonio. Exhibition consultants include Eric Harrison Chudler, director of education and outreach at University of Washington, and Marcia Rudy, science writer and program development consultant.
ITC is on the UTSA HemisFair Park Campus, 801 E. Durango Blvd., a short distance from the Alamo and the River Walk. Hours are 9 a.m.-5 p.m., Monday-Saturday; noon-5 p.m. Sunday. Admission is $8 for adults (ages 12-64); $7 for seniors (ages 65+); $6 for children (ages 3-11); free with membership, UTSA or Alamo Colleges identification. For more information, call 210-458-2300 or visit TexanCultures.com.