Show your UTSA pride: Register by Dec. 10 to win free UTSA license plates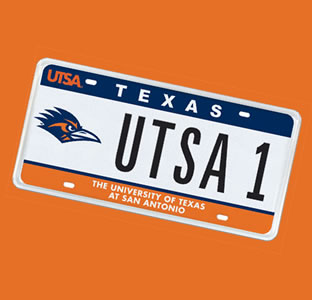 Share this Story
(Nov. 29, 2010)--UTSA supporters have a new way to show their UTSA pride. Custom license plates now are for sale through MyPlates, a contracted vendor with the Texas Department of Motor Vehicles. The annual cost of a set of plates ranges between $55 and $195, depending on the level of personalization. All proceeds received by UTSA will support student scholarships.
To support the launch of the new license plates, the UTSA Alumni Association is sponsoring a contest in search of the most creative license plate personalization. The winner will win back the purchase price of their plates. Orders for the contest must be placed by midnight Dec. 10, 2010. Participants are automatically entered in the contest.
To order, visit the UTSA MyPlates website, select the license plate series, create a personalized message and check its availability, then select "Order This Plate." The final step is choosing a purchase term of one, five or 10 years, completing the information and then proceeding to checkout.
Purchasers will receive notice in the mail when the license plates are ready for pick-up at their local county tax office. Orders usually take 3-4 weeks.
Texas is the first U.S. state to hire a private vendor to create, market and sell license plate designs to raise money for the state.
For more information, e-mail customerservice@myplates.com or phone 888-769-7528.